Just like any other participants in traffic, truckers can easily benefit from the so-called silent witness – a dash cam. However, their requirements for one are usually a bit different when compared to people who buy a regular dash cam. They can't use a rear view camera, for example, and their point of view is often much different.
However, there's still a host of options as far as what the best dash cam for truckers is. If you're a trucker, and find yourself looking for a good dash cam, we're here to help. Below we've got a few options that work great for you to choose from.
What we also have is a buyers' guide. Even if you go through our list, and still aren't sure what the best pick for you is, we'll explain all the important features and specifications so you know what you're looking for. Without wasting any more of your time, let's take a look at our options, and then we'll proceed with the buyers' guide.
You may also check here the best dash cam under 100 today! 
Looking for a quick answer? Here are our top 4
Top 6 Best Dash Cams For Truckers This Year
One of the main advantages that this device provides to the user is its excellent 170° field of vision. Any user will have the possibility to optimize the driving of a truck from the beginning. Each image has an excellent dynamic range and a seven-layer glass lens. Each of these components is combined with a high-quality resolution.
You can enjoy a resolution of 2160 pixels in HD quality. This is more than enough resolution to capture all kinds of images. This device is compatible with a micro SD memory card up to 256GB, giving you enough space to record and capture videos. The LCD screen has a size of 2.4 inches.
You can connect this device with a smartphone through the wi-fi connection. You can use your smartphone to share, save, or watch all kinds of recordings.
The loop recording reuses the memory so that you don't run out of video recordings. The parking monitor makes it easy to park your vehicle. Here, you can check the best dash cam with parking mode. This device has been manufactured with high-quality materials to withstand overheating and offer a long life span.
2160p video
170 degrees FOV
GPS
Runner Up
Our second dashcam comes with high-end features which are excellent for all truckers.
The front camera records in 4K, and the rear camera records in 1080p resolution. With 170 degrees front and 160 rear viewing angles, the dashcam covers a wide area.

With the built-in GPS feature, you can detect the speed, location, driving route, and more of the video recordings. The built-in supercapacitor ensures that the dashcam can survive severe weather conditions. This dashcam features the Sony Night Vision function, which gives incredible footage even in low-light conditions.
This model comes with Loop recording, G-sensor, and 24-hour parking mode features. The product has an 18-month warranty and provides customer support.
4K front resolution and 1080p rear resolution
Sony night vision
Supports up to 256 GB
Also Great
If you want a high resolution model that isn't limited to 1080p video, and performs great both during the day and during the night, this is your best choice
The third option on our list is the Rove R2-4K. Even though it doesn't do a lot of things, it focuses on a few, and does them really, really well. It's also priced lower than any of the two cameras above on our list, yet is still a viable option for a great trucker dash cam.
As you might've guessed from the name, the Rove R2-4K records video in a 4K, or 2160p resolution. Compared to other, lower resolution models, this one allows you to capture a lot more details and be able to distinguish things such as faces and license plates easily. Alongside the daytime sensor, you're getting an ultra low light sensor, NT96660, which will help get most of the image quality even when there isn't external light. Oh, and the f/1.8 aperture on the lens helps a bit there, too. You will find that the 150 degree field of view lets you capture everything that's happening in front of your truck, which is great. As far as the video quality goes, no compromises have been made on the Rove R2-4K.
So, what about any additional features? Well, fret not, as there's plenty of them, too. To begin with, you've got built-in Wi-Fi. This allows you to use an app (available for both Android and iOS) to not only view the footage, but download it and share it, as well as change the dash cam's settings. The dash cam also has something that the best trucker dash cam should definitely have – a GPS model that accurately records and tracks your location and speed.
You'll also get all of the other "required" features for a dash cam – G-sensor that locks important videos, loop recording, and a support for up to a 128GB memory card. If the options above are a bit pricey, the R2-4K could be the best dash cam for truckers on a budget.
4K video
150 degrees FOV
Wi-Fi
Also Great
Here is another dashcam for truckers at a reasonable price.
The dual dashcam can capture both front and rear videos at 1920 x 1080 resolution with a frame rate of 30fps. With this high video resolution, the camera gives clear footage without any dark spots. It also covers a wide area because the front lens has a 170 degrees viewing angle, and the interior camera has a 150 degrees field of view. This model can survive severe climatic conditions and extreme temperatures. 
It comes with an advanced night vision sensor with an F1.8 6-glass lens and dual F1.8 Aperture rear-facing camera. The dashcam enhances night footage even in low-light conditions. Besides that, you can have crystal clear video recordings of the nighttime. The images will turn white and black if the Infrared LEDs are on. It features emergency recording and file locking features. 
The dashcam includes a built-in GPS tracking function, which can record the truck's driving speed and location. Plus, it can identify the driving router on the map as well. You can get all this information in the mobile app. The dashcam can support up to 128GB, 10 class, or above. This memory capacity can store around 21 hours of dual 1080p recording with a frame rate of 30fps. Remember that a micro SD card is not included in the package so you have to buy it separately. 
You can watch all the recordings and change the settings using your smartphone. Plus, you do not have to use the dashcam or remove the SD card. You can download and share the footage via the mobile app. If you want to have 24/7 recording in the parking mode, it is best to buy an optional hardwire kit. In the package, you will obtain 1 x COOAU dashcam, 1 x USB cable, 1 x car charger, 1 x suction cup mount, and 1 x user manual. 
1920 x 1080P video
170 degrees front camera field of view
Infrared night vision and Sony sensor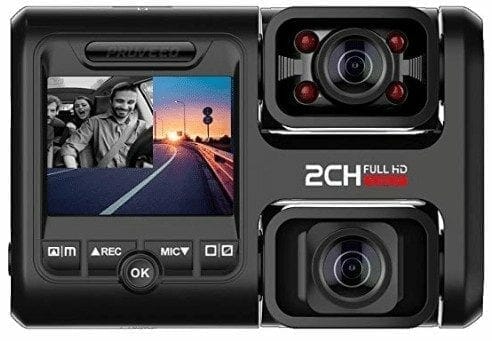 The next item on our list is Pruveeo's D30H dash cam. While the brand may not be the most famous one when it comes to dash cams, the D30H is actually a very interesting proposition as far as dual dash cams go. There's also a pretty rich feature set, and a price that's decent for what you're getting. The design is also inconspicuous, so it doesn't catch the eye easily. Let's dive into the details.
For starters, you have two cameras here. But unlike a typical dual-camera setup, here they're both mounted on a single unit, and rotatable. The point is that you have a regular camera that records what's happening outside the truck, at the front, and another one that's suited for low light, that records the cabin. Both have a Sony IMX323 sensor inside, so even at the 1080p resolution they record at, you shouldn't be losing out on image quality. Also, note that if you only use the front camera, you can record at 1440p, or at 1080p and 60 frames per second. The cabin camera has four infrared lights, as well as an f/1.8 aperture, which makes it perfect for the inside, without any additional light.
In terms of other functionality, you have Wi-Fi that lets you view and download footage from your smartphone, as well as loop recording that helps with storage management. While we're at storage, note that the manufacturer recommends not to use SanDisk Ultra memory cards, and you'd be best off with a Samsung EVO, or SanDisk High Endurance one. If you're fine with that, this is one of the best trucker dash cam models out there today.
As you will notice it is important to optimize the safety in a truck using this device.
You will be able to obtain an excellent image of the back and the front of the truck. So the viewing angle is 155 degrees and you can get a resolution of 1080 pixels at 30fps or 1440 pixels only from the front. Each of the images offers a high level of sharpness and clarity for a better result. You can efficiently use this device day or night.
It is also important to consider that loop recording prevents you from missing out on moments of the recording. This device saves the files the moment it detects a collision. A traffic accident will not be a problem since you will not lose the recordings obtained. You can increase the memory up to 256 gigs with a micro SD card.
This device also includes a built-in GPS to record your location at all times. The parking monitor will allow you to park your truck efficiently without any problems. A motion detector turns on the recording for more convenient operation.
Buyers' guide
Now that you've got a couple of options, how do you know which one to pick from them? They have a variety of features and specs, and you may not understand all of them. Therefore, let's take a look at the most important ones so you know what to look for when you're shopping for the best dash cam for truckers.
Video quality and field of view are key
The first two things you want when reviewing video are for the video to be clear, and for it to contain plenty of information. The first thing is taken care of by the resolution. 1080p is today's standard, and we would recommend that you take it as a minimum. However, if you can afford it, by all means go for a 1440p or even a 4K model. You'll get a lot more details, which might prove handy in case you need to distinguish a face or a license plate.
As far as the field of view goes, you want your dash cam to be able to capture a large part of the scene whenever something happens. Anything less than 140 degrees and you'll be missing out on information on the sides – crucial for truckers. Make sure you have at least 150 degrees, but 170 is the optimal.
Does it have HDR, or IR night vision?
Most of the dash cams you'll come across are pretty good during the day. However, when there isn't too much light, their performance somewhat falls apart. There are a couple of things that could help here, so seeing one of them in the spec sheet of a dash cam should be confidence-inspiring.
HDR, or high dynamic range, basically indicates that you'll have a brighter image in the shadows, and more details in the brighter areas. It's that first part that concerns us, because you'll be able to distinguish a lot of small details when there's a lack of light.
However, for the best possible performance during the night, you'll want a dash cam that has IR LEDs. Infrared lights, when implemented well, will allow you to capture as much details as you would during the day. In the event of an accident at night time, IR LEDs mean that you'll be able to look at faces and license plates with ease.
What about additional features?
We mentioned a few of them earlier, but what are the ones that are crucial? Well, since you're limited with storage, you'll want loop recording. That way, once the storage is full, the oldest videos will be overwritten by the new ones, and the latest one will always be available. With this, you'll also want a G-sensor that locks important videos in case of an accident. Such a sensor makes sure that crucial videos that you might need are never overwritten.
With these being the key things, for truckers it's usually nice to have GPS functionality. GPS modules track not only your location, but your speed as well – two factors that may prove beneficial if something happens.
Last but not least, you could always use motion detection. When you're parked and want the camera to record if someone is messing with your truck, motion detection will tell it to start recording whenever someone is moving up front.
Closing Words
If you didn't know what the best dash cam for truckers is, and how to choose it, we hope to have helped with that. You now not only have a few options, but you also have a handy guide that should help clear up any questions you might've had in terms of the functionality you'll find on such a dash cam. Now it's up to you to see what kind of budget you're working with, and then get the best dash cam for your needs.
Here you can also check the top 5 best night vision dash cam!
A pricey, premium dash cam option that's worth every penny, with a great feature set and excellent performance
We are sorry that this post was not useful for you!
Let us improve this post!
Tell us how we can improve this post?