Choosing the best motorcycle GPS tracker out of all the options out there is difficult. Whether you've got a small scooter, or a large touring bike, chances are you love it a lot and you want to keep it protected. In case something happens, only the best GPS tracker for motorcycle will help, as you will be able to find it pretty quickly.
So, how do you get the best motorcycle GPS tracker? Well, we're here to help. First things first, we've got ten options for you that are all excellent in one way or another, and you can go with any of them if you want some peace of mind. To add to that, we've got a buying guide that should clear up the requirements for the best GPS tracker for motorcycle, and you'll be able to make an informed buying decision.
Before you continue, you may want to check the best GPS tracker guide here. We have also a guide for the best personal GPS tracker with no monthly-fee! and not just that, we've also tried to collate the best car GPS tracker with no monthly fee as well!
Quick Summary: Best Motorcycle GPS Tracker of 2019
Our editors go through and research, test and qualify our recommended products. We receive commissions on purchases from certain links.
$25 Subscription 
4G LTE Signal
SOS button
Our top pick comes courtesy of PRIMETRACKING, and even though it's made as a personal GPS tracker, it's also the best motorcycle tracker you can get. It comes with a host of useful features, a reasonable subscription, and a great price.
First things first, the monthly subscription is $25, but it drops to $20 if you pay for 6 months, which is very good. The tracking is excellent and done via a 4G LTE signal, and is much faster and more reliable than the 2G signals some trackers use. You can get real time locations quickly, and follow them from your computer, or from their GPS tracking app.
It also has geofencing, as well as speed and behavior tracking, and an SOS button should you ever need it. It's overall an excellent package, and is one of the best GPS tracker for motorcycle options you can get on the market today.
$24.95 Subscription
AT&T SIM card with unlimited data
Waterproof
LandAirSea's 54 waterproof tracker is great for tracking your motorcycle. It's small, extremely inconspicuous, and attaches to your vehicle via a magnet, so you don't have to bother hiding it difficult places – just snap it to an exposed metal portion that's out of sight and you should be good to go. It's also completely waterproof, so you could put it on the bottom and not worry about water damaging it.
In terms of the tracking, you have very reliable and highly accurate tracking. You can use either SilverCloud's app, or Google Maps to track your vehicle, and you can also enable text and email alerts. You have geofencing and driver behavior reports as well, which is very welcome.
In terms of the subscription, it comes out at $24.95, and you do get an AT&T SIM card with unlimited data and access to their servers. If you're in the USA (it's domestic use only), this could be an excellent alternative to the PRIMETRACKING top pick.
$19.95 Subscription
Very Accurate Tracker
SOS Button
The Optimus 2.0 is another one of those "personal" trackers that's actually really, really good for tracking your motorcycle. It's small and inconspicuous, and you can hide it in any of the compartments of your motorcycle to keep it out of sight. You can even buy an additional magnet waterproof case and have it on the outside, but that's an additional expense.
When it comes to tracking, you have an excellent and very accurate tracker that can report the location to you every 30 seconds. This is upgradeable to 10 seconds, but chances are you won't need it. The subscription is $19.95, and includes a SIM card and data plan.
There's movement alerts, geofencing, speeding alerts, as well as an SOS button, so it's actually pretty feature rich, making it an excellent choice for the best motorcycle GPS tracker.
$9.95 Subscription
Online Viewing of GPS Coordinates
Waterproof
The Spot Trace is an interesting option. It's a bit pricier than some of the other products, but is actually worth it. The build quality and feature set are excellent, and the device itself is small so you can easily tuck it inside a compartment on your motorcycle.
On the outside, the device has an understated black design. This means that to the untrained eye, it will look like it's a part of the motorcycle. It's also water resistant, and it's got Dock mode, which lets you configure it for an asset that's stored on the water, not that you'd use this with a motorcycle. There are plenty of alerts, as well as real time tracking that lets you view GPS coordinates online. You will also receive a message if there's low battery on the device, and when it turns off, so you know you need to charge it.
As per their website, you have a couple of options in terms of subscription, from $9.95 per month, with additional charges for their Extreme Tracking, which updates every 2 and a half minutes. With the basic tracking you only get updates on 5 minutes. If this is something you can work with, it's a good option.
The Trak-4 is actually one of the cheapest ways of getting a good motorcycle tracker that does come with plenty of features. The only downside is the questionable build quality, but if you're going to be putting it under the seat, or in another compartment, that's not going to be an issue.
While the sale price is actually on par with most of the competition, the subscription is very cheap. It comes out at $12.99 if you pay monthly, but $6.99 if you go for an annual payment, which is extremely cheap compared to everyone else.  
You get hourly pings, but that's upgradeable to 10 minute pings, as well as 1 minute pings, so you can choose the best option for you. The downside? There aren't some of the advanced functions such as geofencing etc. You do get a 12 to 18 months of battery, though, which is more than plenty.
Amcrest is actually a major player in the home security game, and this time around we've got their excellent GPS tracker, a strong contender for the title of best motorcycle GPS tracker. It's small, it comes with plenty of subscription options, and works admirably in a variety of scenarios.
As far as those subscription options go, first of all you have a pretty cheap entry price, and then the subscriptions start at $19.99 for 60 second updates, and go to $34.99 for 5 second updates with a few options in between, too.  
Add to this advanced features such as geofencing, smart alerts and reports, as well as a 10-14 days of battery life (depends on how common updates are), and you've got yourself an excellent motorcycle GPS tracker that's not going to cost you a lot in the long run.

The SinoTrack is actually a dedicated vehicle tracker, as it plugs into your car or motorcycle, and uses its battery in order for you not to have to charge it often. It's also pretty cheap, and doesn't require a subscription for the manufacturer, so it's definitely worth checking out.
In terms of features, you have real time tracking with ignition detection, as well as alerts for leaving a predetermined area and erratic driver. There's also a backup battery, so even if it does get disconnected, it will still send a signal.
The downside? It uses a 2G network, something that carriers are moving away from, and you'll have a hard time finding a compatible SIM card. However, if this is something you can live with, the SinoTrack Vehicle GPS tracker is actually an excellent solution for keeping track of your motorcycle.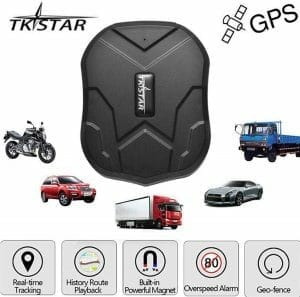 If you're looking for the best motorcycle GPS tracker with a long battery life, the TKSTAR is the option for you. It comes with a 5000mAh battery that works for three weeks (continuous run time), but has a standby time of 3 months.
The GPS works great, with accuracy down to 5-10 meters – more than enough for you to find your motorcycle. The real time tracking works admirably, and you can even get GPS coordinates via SMS. It works with a magnet, so you can easily attach it to the underside of your motorcycle. It's waterproof, so no worries that water may damage it.
It also comes with a reasonable entry price and no subscription. However, just like the SinoTrack, you'll want a 2G card in order for it to work, and SpeedTalks is your best bet here, since major carriers don't support 2G. If you can live with that, it's an excellent tracker.

Spytec's STI GL300MA is priced on par with most of the competition, but manages to be an extremely reliable tracker for your motorcycle (or other vehicles). It's so low on our list because of the subscription price and lack of discount for multiple month payments, but it's otherwise a great pick.
With up to 2.5 weeks of battery life and real time tracking via 4G LTE, you can be sure that you can monitor your motorcycle at any point in time and know what's happening. There's geofencing, custom alerts, and even an SOS button.
That subscription is $25 per month, but unfortunately you can't get it annually with a discount, so it's pretty pricey. If you don't mind that, you will benefit from Spytec's 24/7 customer service that's excellent peace of mind, and you'll get a great GPS tracker for your motorcycle.

The Trackmate Mini H is our last option because it's pretty complicated to install. It requires that you hardwire it on your motorcycle, which is a complex process not everyone is prepared for. However, with that you never have to charge it and it's operational pretty much at any point in time.
Tracking is great and very accurate, and you have live map tracking, tampering and towing alerts, as well as historical location reports. The device itself is weather resistant and waterproof, and detects ignition on/off.
The best thing? It doesn't require a long term contract, and monthly payments come in at $9 per month, which is as cheap as it gets. The unique tracking system uses both T-Mobile and AT&T's networks simultaneously, so you get the best possible accuracy. All in all, if you don't mind hardwiring, it's the best motorcycle GPS tracker.
Buyers' guide
Now that we've got the options out of the way, what are some of the things that you should keep an eye out for? Do you go for the cheapest subscription, or the one that updates most often?
The most important aspect is GPS accuracy and real time tracking. If ever something happens to your motorcycle, you will want to know that you'll be able to find it to within a few feet. If it's moving, only real time tracking will be able to tell you accurately where it is. This often requires some kind of subscription, which is more than worth it if there's the risk of you losing your bike.
Next, you've got the subscription price. When it comes to the subscription, the pricing is twofold. One, you'll need a SIM card with plenty of data that allows the device to communicate with the manufacturer and send them information on where your bike is. Now, it's up to the manufacturer to determine whether you'll need to be paying them a monthly subscription for them to give you that data – some charge for it, some give it to you for free. Note, however, that the ones that charge you usually have more accurate real time updates, and they're much quicker.
Last but not least, you'll want to note additional features, such as geofencing, SOS buttons and speed and erratic driving monitoring. Geofencing allows the tracker to send you a notification in case your bike leaves a predetermined area, and you'll be able to monitor the moving speed and how the driver is behaving. This may not do much if its stolen, but if you've borrowed it to someone you'll know exactly how they drove it.
Wrapping things up
At the end of the day, choosing the best motorcycle GPS tracker can be the difference between you recovering your bike after it's been stolen, and losing it, quite potentially forever. For people who care about their motorcycles, the choice is obvious, and they won't mind paying for the best GPS tracker for motorcycle.
Our top pick comes courtesy of PRIMETRACKING, and even though it's made as a personal GPS tracker, it's also the best motorcycle tracker you can get. It comes with a host of useful features, a reasonable subscription, and a great price.
We are sorry that this post was not useful for you!
Let us improve this post!
Tell us how we can improve this post?