Getting Started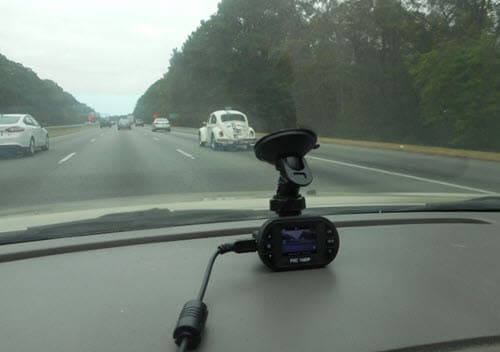 A mini camera for cars, or a dash cam, is all the rage nowadays, with some vehicle manufacturers even offering them as part of the kit you get with your cars, such as Audi, or BMW's Advanced Car Eye. And, honestly, we can understand why. Having a dash cam offers numerous benefits for just about everyone, without any downside, when you think of it.
But, what is a car mini camera / dash cam? And Is it illegal to have a camera in your car? Basically, it is a small camera that's mounted on your car's dashboard (hence dash cam), or windscreen, and records everything that is happening ahead of you.
However, in some situations (such as the BMW option above), there's also a second camera that records the back of the vehicle. It is incredibly useful in a plethora of situations, but its main purpose is to provide recorded information in case of an accident or similar situation.
That's not to say mini car cameras are just used for that. Taxi and bus drivers rely on them as well, and police officers use them to back up their encounter reports. You will also find driving schools around the world using dash cams, so they can review the footage with their student afterwards, and see where mistakes were made. Let's take a look at some of the advantages of a mini car camera, as well as a couple of the best options you can get today through our Gadgets Spy Guide.
Top 3 Dash Cams / Car Mini Cameras 
Best Overall – Great Pick!
Resolution: 1920x1080p Full HD
Field of View: 170 degree
Display: 2.4″ LCD

The first option on our list is also the most expensive one, but there are good reasons for that. To begin with, it has a discrete design that doesn't stand out too much, and after a while, you won't notice that it's there. In terms of video quality, it records in 1080p, which is excellent.
Many mini car cameras only record in 720p, which often doesn't give you the quality you expect. With the Rexing, you won't be disappointed. The Sony Exmor IMX323 sensor helps with that as well, as it's one of the best small camera sensors out there. And, there's also the 170 degree wide angle, which should help you with capturing everything that happened.
In terms of features, there's loop recording, that splits video into segments of 3, 5 or 10 minutes. Once the memory card is full, it begins deleting the oldest recordings. It supports a 128GB memory card, though, so that might not be necessary. You also have a G-sensor that locks the current video in case of a collision, so you don't delete it by mistake. An excellent all-rounder for a decent price!
Resolution: Dual 1080p Full HD
Display: 2.7″ LCD
Parking Monitoring
Night Vision
The Z-Edge WiFi Dash Cam comes with some of the best high-end features. It is accessible at a reasonable price and records high-quality videos and images.
This dashcam supports up to 256GB of storage cards and has a wide viewing angle. Also, it contains an emergency locking (G-sensor) feature. 
The front and rear dashcam can capture 1080P resolution videos at the same time. It is equipped with a Sony image sensor, and it helps to record the view in high-contrast lighting. Due to the Wide Dynamic Range Technology (WDR), it can record in low light conditions as well. 
The dashcam has a loop recording function, which allows you to overwrite the former recordings. You can choose motion detection or constant video recording option. It has a parking monitor feature that will detect vibrations and record the footage for 30 seconds. There is a separate mobile app so you can connect the camera to your mobile phone.
Resolution: 1920 x 1080p FULL HD
Field of View: 130 degrees
Night Vision
2″ Large LCD Screen
Here is our third pick, which also provides 1080p recordings. It uses WDR technology and comes with 130 degrees viewing angle. The camera is equipped with Sony IMX307 high sensitivity image sensor. 
The CMOS image sensor has enhanced sensitivity and can record better quality videos even in low light conditions. When a collision happens, the G-Sensor will automatically record and saves the recordings. It auto-locks the real-time footage segments and protects them from being deleted or overwritten. 
The light design demonstrates the working status of the car camera. The blue light indicates standby mode, the green light indicates normal recording mode, and the red light indicates non-recording error mode. The loop recording function erases the old footage to store the new videos. It supports 16GB to 64GB memory cards. 
Top Reasons To Own A Dashcam
You have evidence in case of an accident
 This is the main reason why dash cams even exist, and is by far the main reason why so many car drivers invest money in dash cams. A good dash cam starts recording as soon as you start your car's engine, and gives you straight-to-the-point evidence in case of an accident. If your vehicle is involved in an accident, you can have video evidence for when things go to court. It isn't uncommon for the guilty drivers to put the blame on the victim in an attempt to avoid responsibility for the accident. A dash cam can save you in this case.
 However, even if your vehicle was not directly included in the accident that happened in front of you, you can still offer to provide the evidence to the involved parties. Even though this is in no way an obligation, it can help settle who was guilty, and who was the victim, especially in the eyes of law enforcement.
 It comes in handy for undisciplined drivers and road rage
 Each and every driver has encountered a bad driver once in a while, whether it was reckless driving, or driving and texting. These drivers are all around us. They aren't just irresponsible in terms of being annoying and bothersome, but they can easily put the lives of others in danger. A lot of countries will let you report this kind of driving, but if you want the police to be able to actually do something, you'll want some kind of evidence. Don't have a witness? A dash cam is your best solution.
 A dash cam will let you report such a driver, and submit video evidence of their bad driving. By reporting such bad driving, you're actually directly helping make the roads a better, safer place for just about everyone. One day it's you that is in danger, the next it might be your family. In addition, there's the moral part of the story too.
 If you don't report such a driver, you are somewhat indirectly responsible for what might happen to someone else on the road. Oftentimes we see that even though we respect and abide by the rules, both written and unwritten ones, some people simply disregard them. These people can cause a huge accident, and a dash cam can help you protect yourself, and many others, from such situations.
 Taxi company owners and worried parents can benefit, too
 If you own a taxi company, and suspect that some of your drivers are using your vehicles for personal purposes, you might want to prevent that. Or, if you own any kind of company, and you see that extra miles just keep appearing with no obvious reason, you'll want to prevent that as well. And last but not least, if you're a worried parent who thinks their kid could take their car for a ride, a mini car camera can help you stop him, or her.
 This also applies when you're lending your car to someone, or leaving it with the mechanics. A car is a valuable asset, maybe one of the most valuable ones you have, and being concerned about its safety and integrity is perfectly normal.
 Fraud prevention protects both you, and insurance companies
 As we said above, there are plenty of people whose morals are questionable. In the last couple of years, there are a lot of people that have found a simple, yet effective way of committing insurance fraud. All they need to do is find someone, preferably with a high-end car, and purposely cause an accident. Then, they put the blame on the other driver, and even go as far as to fake injuries in order to get more money from them.
 A dash cam can easily help you with this. If someone purposely caused an accident, the mini car camera will be quick to point this out, and you can protect yourself from paying someone who is basically just trying to harm you.
  What mini camera should you buy?
 We did mention that some manufacturers let you get a dash cam as part of the kit that comes with your car. However, that's not all of them, and if you already have a car, you can just buy one. But, which one do you buy? There's a lot of options, and it's no secret that many of them aren't really worth it.
 To help you out with that, below we have three excellent options for you. They're all great, and regardless of which one you buy, you won't go wrong. All you have to do is check them out, and make a decision. In no particular order, let's take a look.
We are sorry that this post was not useful for you!
Let us improve this post!
Tell us how we can improve this post?