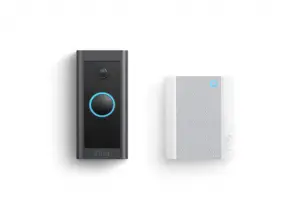 There are many ways to improve the safety and security of a family in an apartment. The ring is one of the best options because it can replace a conventional peephole in the front door. The apartment owner can get much more convenient visibility along with additional features.
These are smart doorbells that provide versatile and extensive functionality to users. No modifications to a door are required, and no damage occurs. This type of device incorporates HD imaging along with other high-end features. 
If you're looking for a great peephole camera, check more tips here!
Main Features of a Ring that are Best for an Apartment
in Order of Importance
A ring is often incorporated into an apartment because of its excellent variety of functions. The main features that are great for an apartment are as follows:
Motion Sensors:

Most ring models incorporate motion sensors to detect whatever is happening outside the apartment. When motion is detected right in front of the door of your apartment the device sends a notification to the user. The same goes for the knock detection of this device.
Field of View: The field of view is usually 155 degrees or more. As the field of view is more encompassing people can visualize more space. This undoubtedly increases the functionality of any ring peephole cam and lets you see people trying to hide to the side or under it in a corridor. (1)
Resolution: A Full HD 1080-pixel resolution and HDR are incorporated. This can be more than enough when it comes to having a really clear and visible picture of what is happening outside your apartment. This can be used remotely through any smart device. The added resolution lets you see and record people even when they are farther away in a corridor. (2)
Night Vision Capability:

The night vision capabilities of the ring allow you to view an apartment corridor even during low light conditions. Sometimes apartment corridors are dimly lit and it may be hard to record, however, Ring takes care of this for you with a 6 led night vision integration.
Additional Features:

Ring incorporates other features such as battery operation or remote surveillance. Sometimes different models incorporate the operation of an app that all members of the household have access to and can view remotely.
Each of these features is excellent when it comes to improving the security of the family that lives in an apartment. These are the main reasons why rings have become very popular in recent times. People can talk to potential guests or people outside their homes. The functionality of these devices allows them to prevent a large number of thefts and criminal acts. 
Ring doorbells are usually very easy to use by all members of a family. There are different devices with budgets of the higher or lower level. It is highly recommended to have a good budget for a high-quality and functional device that allows you to improve the security in your apartment.
Some of the great learning guides you can check also are these: Does a Ring Peephole have night vision and How can I hide my Ring camera. Until next time!
References
(1) field of view – https://www.sciencedirect.com/topics/physics-and-astronomy/field-of-view
(2) HD 1080-pixel resolution – https://www.tomshardware.com/reviews/what-is-fhd-full-hd,5741.html
We are sorry that this post was not useful for you!
Let us improve this post!
Tell us how we can improve this post?