When it comes to home security, there are actually quite a few items that could be helpful. And sure, many people start with the basics – surveillance cameras, motion sensors, smart locks, etc. But one overlooked item that many people seem to neglect is the peephole camera.
Even though at first it might not seem like something too useful, if you were to take a look at our peephole camera instructions, you will find that it's actually an essential item when it comes to your home security. It does quite a bit, and it's actually a breeze to set up and use.
That being said, some might consider that it's difficult to choose one, when in fact, it isn't. And to show you it isn't, below we've got a full list of peephole camera instructions – how to choose the right one, how to set it up, and how to keep it running and in great shape. Without wasting any more of your time, let's get into it.
You may check the best peephole camera in the market this year!
Choosing a peephole camera
The first thing you'll be doing is choosing which one. There's a host of options out there, many of which come with different specifications, different features, and a different build all-around, so let's see which one does what.
Kicking things off, we've got the mounting method. Here, you'll come across two options. The first one is to have a camera that only mounts on your peephole, and has a display right on the other side. The other option is to have a camera which requires you to run cables through the door. In terms of performance, you can go for either one of the options. However, if you want convenience, you should go for the ones that don't require you to drill your door and guide cables through.
Moving on to the features, the most important one is the viewing angle. A wider field of view equals a much larger part of the outside area of your door being captured, similarly to using a fisheye lens on a camera. If you take a look at a conventional peephole, you'll find that they also have a fisheye lens, that's why you're able to see so much from such a small hole. However, unlike a peephole, you won't have nearly as much distortion with a peephole camera. A narrower field of view defeats the purpose, so try to get one that's as wide as possible. Keep in mind, however, that with a wide field of view, you'll very likely notice some quality loss as you get closer to the edges of the image.
Here's our Edimax IC 6220 DC Wireless Peephole Camera Review, in case you want a wireless one.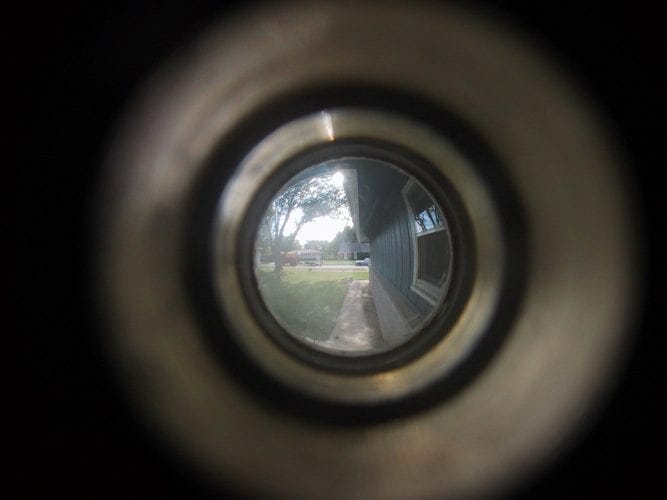 Next, consider the resolution. This will basically dictate how sharp the image is and how much details you get from it. Obviously, a higher resolution equals more details, but also a higher price, so the key is making a compromise. However, we wouldn't advise that you go below 720p, as that will very likely result in a low quality footage that's a lot less useful than you might think. If you can afford to pay a bit more, by all means go for a 1080p model. You will also find some models boasting 4K, but since this is just a peephole camera, that's not really necessary and you don't have to spend that much.
Last but not least, note the display. Even though sure, you can transfer all the footage and pictures on a computer and view them from there, you won't be doing that every time someone rings on your doorbell, right? If that happens, chances are you'll be looking at the display that's right on the other side of the camera. There are two things to know, the size and the resolution. In terms of size, anything above 3" will do the job, since you won't be getting into too much detail here. And as far as the resolution goes, it will almost always be lower than the camera's resolution, but this isn't something to worry about since you'll still get good footage.
Installation is the next part of our peephole camera instructions, and how easy it is depends on a couple of factors. To begin with, you'll need to see whether or not you already have a conventional peephole, whether it's the right size, and what type of installation you'd be going for.
If you don't have a peephole, you'll need to drill a hole. Make sure you mark it at the right place, and check your camera to see what size the diameter should be. It's either going to be 12mm or 14mm, and which one it is will depend on your peephole camera. To add to this, even if you do have a peephole already, but it's smaller than the camera you're installing, you will need to expand the hole.
If your camera is one of the ones that has a mounting bracket right on the other side, you'll need to attach the mounting bracket for the display assembly. If not, you'll need to drill holes in your door to run the cable outside, and mount the bracket there.
Before you insert the display assembly in the bracket, make sure you put the batteries and SD card inside. They're both made to be easily accessible, and you won't have any problems with this whatsoever. Then, it's just a matter of putting it on the bracket, usually with a twist-and-lock mechanism. It's secure, it's simple, and it allows you to easily remove the display when you need to remove the batteries or the memory card. Which brings us perfectly into the next (and last) thing we'd like to talk about in our peephole camera instructions, which is maintenance.
Maintenance is pretty simple
When it comes to maintenance, there are only two things you'll need to be taking care of on a somewhat regular basis – batteries and storage.
Let's discuss the batteries first. Battery life for peephole cameras tends to be pretty long. And by "pretty long" we mean a couple of months usually, which is no small feat, and something not many devices can do. What kind of batteries you need will depend on the camera itself, but most of them will require either AA or AAA batteries. Both types are pretty cheap, and chances are you can get either at your nearest convenience store. When you're out of juice, you simply remove the assembly and swap them out with a fresh set, and you're good to go. (1)
Storage is the other thing, and the usual solution is a memory card. Whether you get one in the box, or you'll need to get it additionally depends on the camera itself, but in any case, they're pretty cheap so even if you need to buy one, it won't set you back a lot. Your concern might be what happens if the memory card fills up? Well, the obvious solution would be to transfer the files to a computer, but that's a procedure you might forget.
The other option is to get a camera that has loop recording. Loop recording is a feature that most of today's cameras come with, and it basically overwrites the oldest footage in favor of the newest one. Even if your memory card is full, you'll still have the newest footage available, which is pretty nice.
And that concludes the peephole camera instructions, which as you see, are pretty simple and easy. All you have to do is choose one and order it!
(1) – AA or AAA Bateries – http://www.differencebetween.net/object/difference-between-aa-and-aaa/
We are sorry that this post was not useful for you!
Let us improve this post!
Tell us how we can improve this post?