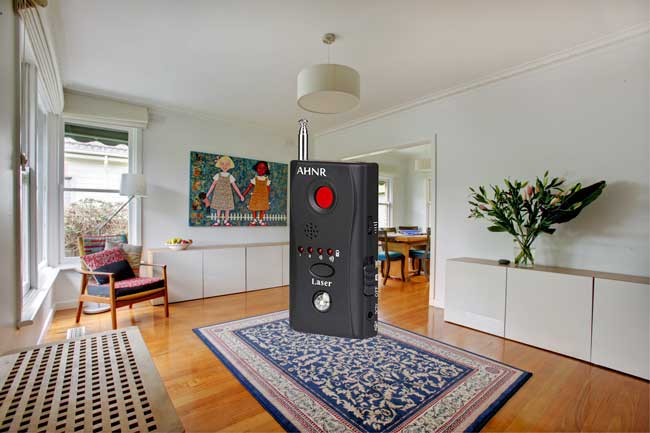 A bug detector is a essential device for those at risk of surveillance or even those with snoopy friends or close ones who may be trying to obtain evidence or catch you in a compromising position.
At one point, they were only reserved for law enforcement agencies and military counter-intelligence personnel mostly due to the lack of commercial availability, and prices. Nowadays, they are more affordable and common.
So, how does it work? Well, electromagnetic signals are broadcasted from the bug you're trying to find ( hidden cameras, microphones or even GPS tracking devices.). And, instead of them being converted into audio or data, the device will light up and let you know via an audible alarm that there is something nearby. If you want to find a bug, you move your device around nearby objects and listen for increased alarm. Doing a sweep can be really easy, too.
Below, you'll find a list of five of the top bug detector options on the market today, we at Gadgetsspy have also included a short buyers' guide, to help you make an informed buying decision.
Quick Summary: 5 Best Bug Detectors
Our editors go through and research, test and qualify our recommended products. We receive commissions on purchases from certain links.
Frequency: from 1 MHz to 8 GHz
Battery: 800 mAh
Working Time: 10-15 Hours

Our Pick
Moving up in the price ranges, we have the JMDHKK RF Detector. This is a fairly high end device that's packed in a small, compact package. It promises to be a highly effective sweeping device, and it absolutely delivers on that promise.
Detector Highlights
With a detection range of up to 40 feet, and a frequency range of up to 8GHz, you can be sure that anything in your surroundings will get picked up.
From a GPS tracker, to a hidden audio or video surveillance system, it will pick up anything.
One thing that it has, and you won't find with many other bug detectors, is the LDE laser technology. As you'll see later on, if a camera isn't transmitting, you can't actually pick up its signal. With the laser, however, you can easily find camera equipment that's on standby, which is a great advantage over the other detectors on our list. This is also why the price is as high as it is.
All things considered, if you want high end, but don't want to spend too much on it, this is the one to get. You have all the basics, plus some advanced features, packed in a great durable package. What else could you want?
Frequency: from 1 MHz to 8 GHz
Battery: 800 mAh
9-level LED indicator
Runner Up
If the AHNR doesn't cut it for you, and you're willing to spend a bit more money, this is what you want. The Eilimy G319 is an incredibly effective signal detector that will let you detect various signals around you, from various sources.
It has extremely high sensitivity, a wide detection range, and strong anti-interference abilities. It's small and compact, and you can use it anywhere, from an office, to your home and car.
Detector Highlights
This is basically an upgrade of the SS RF, and it comes with a more powerful battery, as well as an upgraded chip. Other upgrades include a new look, and higher quality.
If we're talking numbers, you have a frequency range of 1MHz, up to 8GHz, which is a touch more than the AHNR. However, it also consumes much more energy at 60mA, and it'll last you between 15 and 25 hours, depending on your use.
The build quality is also better than the AHNR, as the Eilimy is made of aluminum alloy, which should last quite a bit more.
At the end of the day, if you want to invest some more money into a device that's well proven, you won't regret it. It will last you for a good while, and it'll detect just about anything that you might not want around.
Frequency: from 1 MHz to 6.5 GHz
Battery: 500 mAh
Working time: 5 hours
Also Great
The AHNR Bug Detector is, honestly, incredible. It offers all the functionality you might need, and the price is dirt cheap for what you're getting.
The sensitivity chip lets you adjust it, and there's a wide frequency range, from 1MHz, to 6.5GHz. Depending on the surveillance equipment's transmission power, it can detect radio waves from 5cm to 10m far. It has a 920nm probe laser, and dedicated optical lens filters.
Detector Highlights
It also detects strong electromagnetic radiation leaks which might do harm to your health, and in case it finds something, there is a sound, vibration and light indicator.
The Searchlight magnetic sensor antenna ensures reliability and accuracy. You can use it to find things such as bugs, GPS trackers, wireless cameras and other devices. Regardless of where you are, if there's anything, it'll find it.
And last but not least, there's a 450mAh battery inside it. With the 8mA consumption, you can be sure that the AHNR will last for a good while.
Regardless of whether you're feeling insecure in your own home, or you're staying in someone else's, you can be sure that with the AHNR RF Bug Detector you can easily find any eavesdropping devices that may be there. You pretty much can't go wrong with it.
Frequency: from 1 MHz to 6.5 GHz
Battery: 400 mAh
LED Indicator
The AMZCHEN is our second last bug detector on the list, but that shouldn't discourage you from purchasing it since it's a overall excelent detector. 
 Detector Highlights
It's also a budget oriented device. Build quality is stellar, even though it's made of plastic. It covers all the basics, from a 1MHz-6GHz frequency range, to a long lasting battery and good notification alerts.
There's also an LED lens detector, something that's often welcome in a bug detector.
You will also get an earphone in the box. If you want to do things privately, and not alert anyone you're looking for bugs, this can be of great help.
Now, we'll be honest, this is far from the best bug detector on the market. However, we've found it actually does the job admirably. It didn't fail any of the tests, and it managed to find everything that we had hidden for it.
Where corners were cut is obviously the build quality, and the 400mAH battery. Fortunately, the build quality isn't bad, even though not great, and battery life is manageable.
If you're on a tight budget, it is a tight battle between this, and the AMOMB one place higher on our list. The choice is yours.
Frequency: 1 MHz – 8000 MHz
Battery: 500 mAh
Magnetic Field Detection

Back to the best GPS options, we have the Knight signal detector. This is a great little device that won't break the bank, yet has all the great features you need.
Detector Highlights
This version has an upgraded chip set from German technology.
It provides artificial intelligence, high sensitivity, and a wide range of frequency detection.
The best feature is, it tracks including GPS.
Now, this premium anti-spy detector has5 detection modes; RF Signal, Magnetic Field, Infrared Camera, Hidden Camera Discovery Scan, and Smart Detection.
It has a 2-year warranty, and comes with instructional videos.
Our Pick Again
Moving up in the price ranges, we have the JMDHKK RF Detector. This is a fairly high end device that's packed in a small, compact package. It promises to be a highly effective sweeping device, and it absolutely delivers on that promise.
Know where devices fall in the RF spectrum
Various devices will emit various frequencies, and you can seldom pick them up. For example, RFID works at 3-30 MHz, while Bluetooth, GPS, Zigbee, and mobile phones work at 300-3000 MHz. Therefore, a bug detector needs to be able to pick them up. An audio bugging device, or a hidden camera, will appear either as a cellular, Wi-Fi or Bluetooth signal. For example, Bluetooth and Wi-Fi can be detected at 2400-2480 MHz, while a GPS tracking device is either between 824 and 846 MHz, or between 880 and 920 MHz. Check our listing of the best RF bug detectors available now!
Depending on how the device is used, different devices may make use of different frequencies. For example, if you set up an audio bugging device via a cell phone, it might look like a cellular signal. If you're setting it up for surveillance specifically, it may make use of Wi-Fi or Bluetooth. If a camera is transmitting information back to the source, it might also make use of these signals. However, if that camera isn't actually transmitting in real time, you might not find any signal being projected.
Filters and frequency coverage are key
As you go up in price, the first thing that improves are the filters. For example, a cheaper unit might pick up just about anything. Something that's a bit more high end will easily filter out ambient signals. If you have a radio station nearby, a cheaper unit might pick it up, while a higher end one knows it's a radio station and blocks it out. This might save you quite a bit of stress, as you won't be looking for surveillance equipment where there actually isn't any. On some devices you'll also find a sensitivity dial. All you need to do is adjust it so there are no alarms with the ambient signals, and work from there.
Frequency coverage is something we already discussed. If you want to cover the majority of the risks, you'll want something that covers frim 1MHz, up to 6GHz. However, if you really want to have a serious threat detector, you'll want over 20GHz. This is expensive and not really required for the regular joe, so you don't have to go that far. A better unit will also have no blind spots. For example, if a device is made for the US, it might miss some 4G areas in Europe due to the different bands and frequencies.
Wrapping things up
When you take everything into consideration, there actually aren't that many things to consider. If you're paranoid, or if you're sure you're being watched or listened to, you'll want to get a bug detector, and you'll want the top bug detector you can get. First of all, consider the budget and how much you're willing to invest in it. Once that's out of the way, see how much you can get as far as filters and frequency go. 
At the end of the day, whichever of the devices on the list above you decide to get, you can't go wrong. They all work admirably, unlike some others we tested which didn't work at all, and they're all reasonably priced. Maybe even go the cheaper route and build your own with our DIY Instructions. If you want something that will let you check your home for bugs, just use the information from our buyers' guide, and order the one that's closest to your specific requirements. Simple as that!
We are sorry that this post was not useful for you!
Let us improve this post!
Tell us how we can improve this post?