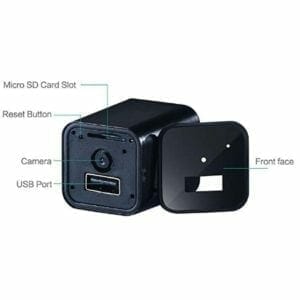 Getting Started
If you're looking for an inconspicuous spy camera that is the perfect mix of hidden and feature-rich, then you need to get a USB spy camera aside from having a mini spy camera. These cameras can be plugged in and look just like chargers, even light on them will not draw attention. But if you're looking for a much smaller camera, you can check our product guide to the best button camera.
We at gadgets spy have tested over 20 different spy USBS and dedicated over 40 hours to find the best one out there. We think the STS USB Wall Charger Mini Camera is currently the best camera to get with its combination of competitive pricing and ease of use it's hard to beat.
Quick Summary: Best USB Spy Camera
Our editors go through and research, test and qualify our recommended products. We receive commissions on purchases from certain links.
Best USB Spy Cameras – Top 13
This top eleven list was created and the products were based on various different factors. We ranked the cameras based on price, customer feedback, variety of features, convenience, size, quality and durability which have all been tested by our team. We hope our list helps you find the best product for you.
Resolution: 1080p Full HD
Field of view: 90 degrees
Night Vision
We're kicking things off with the SS USB wall charger mini camera, and off the bat this camera has lots to offer. With it's great video quality, wide viewing angle, and a clever design, It's a perfect disguise for a camera in the home or office.
First things first, the video quality. This mini camera is right up there with it's 1920x1080p Full HD camera with a wide viewing angle of 90 degrees. At 30 frames per second, the recordings are super clear and smooth. So if quality is your priority this is a great fit for you.
Another feature included in this wall charger mini camera is motion detection. It automatically starts recording once it senses movement. This is a great feature because without it you'd be going through hours of footage just to find the 10 minutes of recording you need. It also comes with night vision so recording at night won't be a problem.
This mini camera has removable micro-SD storage of up to 32GB. As for the power, it's as simple as just plugging it in a wall outlet, surge protector or an extension cord. With it's amazing design it blends in very well in every situation so it's deserving of our top position for a usb spy camera.
Resolution: 1080p Full HD
Motion Detection
Night Vision
Blend in on every occasion with this real charger USB hidden camera. It includes 1080p, motion detection and night vision.
So starting off with the camera resolution. It packs top of the line 1920x1080p FHD resolution just like the high end models. This model is equipped with motion detection, which makes it easy to find the moment you are looking for and not going thorough endless hours of footage just to find the moments you were after. Recording at night won't be a problem since it comes in with night vision. Crystal clear images even at night!
Resolution: 4K / 2K / 1080P / 720P HD
Field of View: 166 degree
Motion Detection
Infrared night vision 4 LEDs
Wifi and Remote Viewing
Aside from its 4k UHD Resolution, this device doubles as a charger making sure anyone will not be suspicious that a recording is ongoing.
Though this camera is a bit more expensive than most of the others, you'll never regret getting this one as its advantages outweigh the price you'll be paying. It's worth the money. One thing that is great about this device is it offers a much better resolution than the others. This simply has the feature when it comes to the best spy camera. Aside from its 4k UHD Resolution, it has night vision and has a 166-degree wide-angle lens. It also has an ultra-small WIFI remote camera and supports motion detection and voice monitoring.
One advantage also for this camera is the supports both from Apple and Android phone devices. Aside from that, it also has a memory card of up to 128GTF, enough for your recording space.
Resolution: 1080p Full HD
Field of View: 90 degree
Motion Detection
This device, like others, is a wall charger which includes a USB port enabling you to charge your device. Although this device has fewer features than the others, it definitely does not lose on quality and makes it much easier to install.
Just plug and play. This device supports a micro SD memory card of up to 128GB which is where the recordings will be stored. No WiFi is required. It has loop recording so when the memory is full, it will delete older recordings for indefinite recording.
It also includes a motion detector which starts recording when motion is detected. The recordings are 1080p, assuring you the highest quality recordings. This device measures 1.18 x 1.18 x 2.17 inches and weighs 1 ounce, being another small and easy-to-conceal device.
Resolution: 1080p, 4K
Field of View: 150 degrees
Motion Detection
Here is our next USB spy camera, and it can record the video in 1080p and 4K resolution. It has multiple high-end features such as two-way audio, motion detection, clear night vision, and a wide viewing angle. 
You can use it quickly after putting it in a power socket. Due to its stable connectivity and easy plug-and-play design, you can set up the camera within minutes. It includes a free app that is compatible with smartphones, laptops, or tablets. It allows you to watch live remotely. 
Though it comes with a 16GB SD card, the camera can support up to 64GB. The multi-protection feature saves the recordings in the SD card from corruption. You will get a camera, tutorial manual, 16GB SD card, card reader, and card pin. 
Resolution: 1920 x 1080P Full HD
120 degrees wide-angle lens
Night Vision
If you are more focused on video quality and device functionality, the Asani Hidden Spy Camera USB Charger is the right choice for you. This built-in spy camera is embedded in the dual USB charger. Because of its discreet design, no one would notice the camera lens.
The spy camera records clear videos and images in 1080p resolution. With a field of view of 120 degrees, it can capture a wide area. You will receive upgraded motion detection alerts when the camera detects any motion. 
Setting up the camera is easy and can be done quickly. All you need to do is insert a micro SD card and plug the USB into a power socket. The camera will start recording when it detects a movement. The hidden camera supports up to 128GB SD card (not included). 
Resolution: 1080P Full HD
Field of View: 90 degree
Advanced Motion Detection
This mini size camera is easy to hide and use. It records videos in 2 different modes, L for the loop recording or continuous record and the M for detection.
What's good about this mini camera is its functions without the use of WiFi or an App. Its 1080P Full HD assures you that the captures are of good quality.
The 2-in one design makes it unnoticeable. It serves as a charger while you are in the recording mode. Its advanced motion detection allows you to record and save the files in the slightest motion the device can detect.
You can also take advantage of its Surge Protection feature allowing you to protect your video records in case there are spikes and fluctuations. This is a portable and easy to use mini camera that you can also gift to your friends and families.
Resolution: HD 1080P
Motion detection
AC or Battery Powered
WiFi enabled
From a superior brand, here comes a versatile USB hidden camera. With its compact design, you will be able to monitor your home or office in real time using your mobile phone!
This device offers HD 1080P video resolution and gives crystal clear recordings. The hidden USB camera comes with unlimited possibilities, that keep an eye on your home and office anywhere you may be. The WiFi cam features real-time motion detection functions which made the device more powerful. When the camera detects any movement, it will start capturing the view. At the same time, you will get instant motion-activated notifications. 
Download the app and connect your phone to the WiFi (only 2.4GHz networks). You can watch live recordings from the app remotely from anywhere at any time. 
This USB spy camera records the footage in high-quality 1080p resolution.  You will get a free 3-in-1 charging cable for type C, micro USB, and iPhone.
This USB camera also has a motion detection function that only records the footage when the camera detects any movement. Besides that, you can choose between continuous recording and motion detection modes.
The package box includes a 1080p USB charger camera, micro SD USB 2.0 adaptor, 3-in-1 charging cable, and user instructions.
Resolution: 1080P Full HD
Field of View: 90 degree
Motion Detection
Different from the other USB spy cameras, this one includes two USB ports. This device gives you space to charge an extra device increasing its serviceability.
It can record and store through WiFi using a fairly simple app the other devices do not use. It also can use a micro SD memory card up to 128GB. Like most of the other devices, this one includes a motion detector which will start recording only when motion is detected.
It also includes the typical loop recording system once memory is full. The recordings are displayed in 1080p, either viewing real-time or past recordings. This USB spy camera measures at 4.6 x 3 x 1.3 inches and weighs at 3.2 ounces.
Resolution: 1080p Full HD
Motion Detection
Night Vision
With a full new updated version, this usb camera is the most advanced one out there today, it has featured that no other usb camera has including multiple users and email notifications, think of a feature, this little device has it!
It includes a motion detector in which sounds an alarm if motion is detected, and if a couple of these devices are bought and placed around a home or office can be used as an alarm system. Another feature which enables this alarm concept to work well is its ability to have multiple cameras to be seen on one screen.
It is compatible with multiple cameras at once. Another feature included in this camera is the neat recording system. You can choose whether the device starts recording after the alarm sounds, or just all day with no trigger.
This device is only compatible with Android and IOS. Measuring at 1.3 x 1.3 x 1.9 inches and 5.1 ounces, this makes for a small device making it much easier to conceal and keep out of the eye.
Resolution: 4K HD
Frame Rate: 30fps
Motion detection and loop recording
Use this USB spy camera to capture decent quality recordings without anybody noticing it.
Next, we have another USB spy camera with a unique design. It comes with a slim but long body and features a total of five charger cable ports. 
The AMCSXH Spy USB Charger can obtain crystal clear and sharp 4K videos and images. Because of its 100 degrees wide recording angle, the spy camera can cover a wide area. It has a sensory motion sensor and motion detection function, which allows instant recording when the camera detects any movement.  
It has a mobile app that is compatible with both Android and iOS smartphones. You can also watch live footage using the mobile app. Unlike other models, you do not have to pay any monthly fee for using the app. It saves the video files in a 128GB Micro SD card, and the loop recording features will erase the old footage to store new recordings.  
Resolution: 1080P Full HD
Wireless
Motion Detection
It's a dual spy camera. A real phone charger and at the same time a spy camera that you can fully trust in securing your home and other places you'd like to monitor.
Aside from the HD 1080P wireless hidden spy camera, it has a remote viewing ability, allowing you to view and watch live anywhere you are with the help of an app installed on your mobile phone.
There's a lot of use for this spy camera. It can act as a baby monitor, a nanny camera, or pet monitor giving you access and assurance that you can be up to date on what's happening at your home or office.
One disadvantage though is the lack of night vision feature but nevertheless, you can still fully enjoy the features it provides as it has a motion detection sensor. It has a maximum of 128GB that can store videos for up to 15 days.
Other features include, plug and play, hidden TF card, free app to download and install, can support 8 cameras in one app, and lastly its WiFi-enabled for remote viewing.
What is a USB spy camera?
A USB spy camera is probably one of if not the best spy camera around, it surprisingly looks and works like a real USB. For this reason, most people will not tell the difference when you are using one. This concealed object will look like your ordinary USB when you are using it.
The only difference between a USB Spy Camera from an ordinary USB is the recording device/ mini camera inside it. Most can let you take pictures, record audio and some of them even have video capabilities. Each spy USB brand differs on the features, quality and the length of recording time.
Why would I need one?
In this day and age, surveillance is imperative. Whether you are a parent needing to keep an eye on your nanny and kids, a boss needing to see if his/her workers are doing their job, someone who just needs an extra eye, a store owner to keep his/her store secure, someone who needs to protect themselves or even if you need to record to gather important or useful information from someone.
They are also fascinating cool gifts for a friend and even a child. A USB spy camera is extremely useful whoever you are and whatever you do, with the multiple functions, the ease of transport, and the great concealment it provides, the possibilities are endless.
How to Choose the Right USB Spy Camera
There are many different aspects and factors in choosing and deciding what USB Spy Camera fits you best. Here is how you find what camera is best for you.

1. Camera quality
Camera quality is important depending on your needs. If you're just planning to use the spy camera to surveil your children or nanny, you might not need the best camera quality out there. If you need to catch the face of a robber or record important details, you will have to focus on quality cameras. You can spot the different qualities by looking at the video resolution, 1080p being the best out there amongst the USB spy cameras. 
2. WiFi Compatibility
WiFi compatibility is a game changer for some people. Cameras which are compatible with WiFi usually support streaming the recording in real-time. This is great if you want to be up to date with the status of your kids or to make sure your home is safe. Some products will notify you on your mobile device if the camera detects movement. This is a huge upside because you will know right away when action is occurring and will not be left in the dark. Check our listing from the best WiFi enabled spy cameras here.
3. Size
Some cameras come bigger or smaller than others, both in the realm of weight and size. They come all around the same size, you this aspect is not as important as others. Some bigger ones might cause suspicion though.
4. MicroSD Storage compatibility
If you do not have WiFi or the product is not WiFi compatible the device will automatically store the recordings in the microSD memory card. These cards range in size, and the range of the products in which storage size they support. If you are planning on leaving the camera for long periods of time and not planning on checking up on it, you should go with a larger size memory card and a product that will support a larger size. These memory cards can range from 16GB-128GB. If you are just planning on using it for a small purpose or one that will not take long you would not go wrong with purchasing a smaller size.
5. Motion Detection
Motion detection is a crucial aspect. Most cameras use the motion detection feature in many different ways. Some cameras start recording video only when motion is detected, so there is no unnecessary time and space will be wasted. Some other products will send you notifications and snapshots to your mobile device if motion is detected. This is key if you do not want to be kept in the dark or waste time looking through useless recordings.
6. Night Vision
This is self-explanatory. This is important to have when recording in the dark. If this feature is not included and you are planning to record in dark areas or in night, it will be hard to see what is going on. If you are someone who is planning to surveil their homes or offices 24 hours a day, it is recommended that you purchase a device that has night vision.
7. Mobile Compatibility
If your USB spy camera supports WiFi real-time streaming and you want to use that feature you want to make sure that your mobile device is supported. Most products will only support Android or IOS devices. Some support Windows and Mac operating systems.
8. Loop Recording
Loop recording is a great feature if you do not have lots of space on your memory card or are planning on recording for very long periods of time. If the storage is full, it will overwrite the oldest recordings to enable them to record indefinitely.
Frequently Asked Questions
We have compiled a list of the most frequently asked questions about USB Spy Cameras, if you see anything that's not on the list feel free to leave a comment and well go through and answer your questions as soon as possible.
 1. How does a USB spy camera work?
The USB Spy camera comes in the form of a power plug with a hidden camera and 1-2 USB ports in the back. You plug it in and it starts recording. It either stores in a microSD memory card, or it gives you real-time live viewing of the recording on your mobile device.
2. How do I set up my USB Spy camera?

Before moving on, we have a separate article on how to use a USB Spy Camera. If the spy camera is not WiFi and mobile device supported the setup is very simple. If the device does not come with a microSD memory card and a reader (they usually come with a reader) you have to purchase them. You can buy a microSD memory card up to 128GB depending on how much you need. After that, just place the card into the directed spot of the device and it will start working. If you want to extract and view the recording, just take out the card and plug it into your computer with the reader. If you are using the WiFi/mobile feature on a supported device, you have to follow the software installation process instructions. Every product is different, but the top ten we tested were very simple.
3. How can I choose the right camera for my needs?
In the USB spy camera tutorial above, there are different features and aspects of the camera that are necessary for different needs and uses. Every need needs different features, and you need to read the list and decide what features are most important for you.
4. Do the USB spy cameras come with the microSD memory cards?
Most of them do not, but it depends on the product. You have to pay attention to the amount of storage the device is compatible with. Some will support 32GB, whilst others could support 128GB. Buy according to your needs, and how much storage you think you will realistically need. There wont be a problem for storage if you have a USB flash drive spy camera, and in that regard you can find our instructions on it here.
5. How do I retrieve the data from the microSD memory card?
You will need to take the card out of the device, and use a microSD card reader and plug it into your computer or mobile device, depending on what port the reader has (usually USB). Some of the products will come with their own card readers.
6. How do I get the wireless/WiFi features on supported cameras to work?
For most devices, you will need to install the compatible software and connect to the camera. Instructions and step by step methods are always given with the product, or when you purchase the product on the product details. They are usually very easy to set up.
7. Will the WiFi feature work with my mobile device?
Most of the cameras will support Android and IOS devices. Every device varies, so you will have to check the product details.
8. Does software on supported products work well?
Out of the products we tested in the top ten list, all the software ran precise and smooth and worked without trouble. Some software could possibly lag if you have outdated software or old hardware.
9. How do I reset the recordings on the USB Spy Camera?
To do this, it is the same throughout most of the different products. Take out the microSD memory card from the device and plug it into a microSD reader. From there, plug it into your computer and delete the files off of the microSD.
10. What do I do if my USB spy camera breaks?
The products that were tested in this list were found to be very durable and last for a long time. If it manages to break, most of the products on this list come with a 30-100 day warranty.
11. Will the USB ports charge my device?
Each device on our top ten list has charging capabilities. They can charge any device which can be plugged into a USB port. The USB spy camera will charge your devices as well as any other charger.
Resolution: 1080p Full HD
Field of view: 90 degrees
Night Vision
We're kicking things off with the SS USB wall charger mini camera, and off the bat this camera has lots to offer. With it's great video quality, wide viewing angle, and a clever design, It's a perfect disguise for a camera in the home or office.
We are sorry that this post was not useful for you!
Let us improve this post!
Tell us how we can improve this post?