Getting Started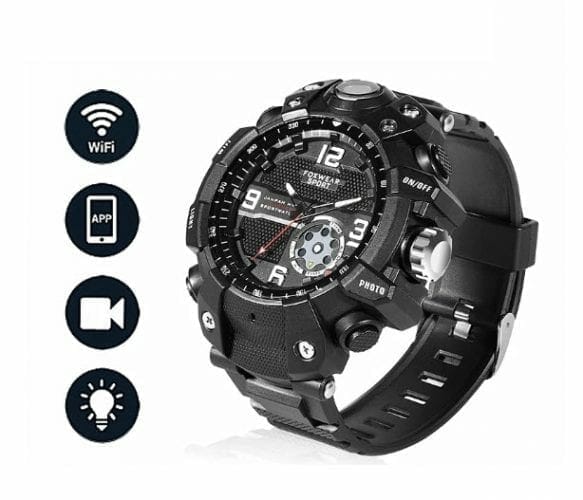 For people looking for hidden or inconspicuous spy gear that records video discreetly or takes snapshots without anybody knowing, their best shot is getting a spy watch. Watches can be hidden in plain sight, are always on your wrist, and have enough space to accommodate a memory card and a good-sized camera making them ideal for this purpose. They are widely considered the best spy watch for kids available for mobility.
After hours of research, we at gadgets spy have put together a guide and top list to help you choose the best spy watch out there. 
Top 5 Spy Camera Watches
If you need to do some recording, like a meeting where you will use the video later, a spy watch is a perfect choice. There are many different spy watches online, for some this can be confusing and disconcerting. Below we shortlist the top choices available.
Resolution: 1920x1080p Full HD
Waterproof
Recording: 1.5 hours 
Our Pick
The Fox10 1080P spy watch is designed to look like a normal men's watch. It still maintains normal watch functionality such as telling time. It has a unique and stylish design with good features that will fit in with your chosen outfit.
The camera lens is hidden at the top of the watch. The position is advantageous because you can capture a better camera angle when using it by pretending to check the time or just rest your arm on the table and you will be pointing directly at your target. There is also no indicator light when the watch is in use.
It is also easy to operate using the two functional buttons. It can do the job accurately with just a few simple adjustments, and you can connect it directly to a PC to view the recorded video. The spy watch can capture high definition (HD) video in full color. It comes with a built-in 8GB memory on loop recording. This means that when the memory card is full, the new video will overwrite the old files. This spy watch has no audio recording.
This spy watch has a video resolution of 1920 X 1080 in a frame frequency of 30 frames per second and AVI format. It works on an AC charger with a current of 5V. It works on different operating systems, Windows XP or later and Mac OS.
This watch will work accurately after simple setup. It also has a timestamp that you can synchronize with your pc. In addition its detailed manual will help you when you get lost in using the spy watch.
Resolution: 1920x1080p Full HD
Recording: 780 minutes 
Night Vision
Waterproof
Runner Up
A wristwatch that resembles one of the most popular casual watches around, you cannot go wrong with this watch, as nobody would suspect that it is a spy watch. It has all the functions you are looking for in a watch.
This spy watch can take hidden videos and photos with simple button operation. There is no light indicator when video recording is in use. That will avoid drawing attention from an onlooker. You can use it as a spy or a security camera for covert use.
The Foxwear Hidden Camera has superior video and photo capturing capabilities. It has a 1920 X 1080P camera resolution at a video frame rate of 30 Frames per second. This means that it can capture high-resolution videos and still photos, the photos being in 4032 X 3024 JPEG.  It has a wider camera angle at 90 degrees. Another interesting feature is it has a night vision capability, and it is waterproof. The video file is in AVI, compatible with your PC.
The Foxwear hidden camera does not require any driver for installation. It works well with Windows, Vista, and MAC. It works on a 380mAh Lithium-ion battery that has a charging time of 2 hours and working time of up to 1.5 hours. It also has a built-in MIC so you can record audio. It is easy to operate with the simple ON/OFF key, and you can use the mode key for the video recording mode.
This spy camera is also very convenient to download. If you want to watch the recorded video, you can just plug it in using the USB cable and directly download the video to your PC.
Resolution: 1920x1080p Full HD
Battery Capacity: 350 mAh
Pedometer

Also Great
What is interesting about this spy watch is its ability to look like a branded watch and work the same; only it has a hidden camera inside it. This means that no one will suspect you are wearing a camera.
This camera watch can take photos and videos discreetly by just touching two buttons, depending on the mode you need. The video resolution is 1920 X 1080P; it has an infrared night vision capacity and has real time clock display.Its video format is AVI, and the photos are JPEG. It is easy to transfer the video and photos by simply plugging the USB cable in.
This spy camera has a built-in memory of 14.5-15.5 GB and has a loop recording capability. This means that when the SD card is full, the new files will overwrite the old ones for continuous recording. It operates in a 350-mAh lithium battery. You can charge it using the USB cable connected to the computer or with a direct current at 5 volts. The charging time usually takes two hours and can run for two hours.
There are three modes wherein you can operate this watch. You can change the mode by a long press on the off/on button for three short seconds to turn the camera on a standby mode. For manual recording mode, it has two blue light indicators. Just a short press on the OFF/ON button and the two blue lights will flash exactly three times before it fades out. Then the camera will start recording. With a long press, the camera will stop recording.
If you want to take a picture, you press the ON/OFF button until you see two blue lights and a red light flash once. This will take a picture and save it. This is a weakness of this watch – it has indicator lights, which is not optimal when you are recording discreetly.
Resolution: 1080P HD at 30 frames per second.
Battery Capacity: 320 mAh
Loop Recording

This hidden camera watch gives you exceptional quality images captured at 1080 HD. It can record HD videos with motion detection mode.
The device has a playback feature and a real-time display, and no need to view it on a desktop or your mobile phone.
The stylish and modern design deserves a 5-star rating due to its ultra-thin feature, making it more sleek and expensive to look at.
Resolution: 720p
Video frame: 30 fps
Free 32GB Internal Memory

This Spy watch can record the footage in 720p color HD video with a frame rate of 30 fps. You can view a full high definition and crystal clear recording. There is a newly designed lens cover that protects the lens and offers better image quality. 
You do not need any extra software for this Spy watch. Besides that, the camera is compatible with both PC and Mac devices. You can organize the videos with ease as the recordings have date and time stamps. The camera comes with a built-in free 32GB SD card. However, this Spy watch is compatible with up to 128GB of memory space.  
This smart spy watch features a single-button finger touch operation. It can start to record the video with one click and has the video image synchronization function. While recording, it does not produce any sound or flash. The best feature is that this camera will automatically save the recordings in case of a low battery. 
You can charge this camera using the included USB cable. The spy watch runs on 280 MAh Lithium-ion batteries which last for a long time. In the package, you will receive an extra USB cable and a practical instruction manual.
What to Look for in a Spy Camera Watch?
After you have decided on what type of spy watch you want, you also have to pay attention to the features that come with it.
Types of Spy Camera Watch
Aside from the typical
spy camera watch
, there are also other types available like the waterproof model or the wireless option. The wireless spy camera can come with a DVR and an LCD screen. In addition, its one-touch button operation records into an SD card. You can insert this sd card into a wireless AVR. If you are looking for a more feature rich spy camera, there is an underwater option, which can record videos with a maximum depth of 30 meters.
Storage Capacity
In choosing the right spy camera, you first need to consider the amount of memory you will need. If you are going for light recording, you can opt for a model that has a capacity of about 4 GB, which is common in entry-level spy watches. If you are doing some heavy surveillance like what a law enforcement officer or a private investigator does then a watch with the highest memory capacity will be perfect. A model with 16GB of memory is enough, or you can opt for a model with an expandable one where it will automatically record on the SD card once the memory is full. This spy camera can record many hours of videos in a single day. Another way to use the capacity fully is to set the camera recording to a lower resolution.
Battery Power
Of course, the last thing that you want is to run out of battery when you are in the middle of recording. Spy cameras are bound to lose their power one way or another, but you should look at the charging options in each model. If you have your laptop with you all the time, then charging through a USB cable will be convenient. There are those that have AC as an option too. There are also those with travel chargers, which are handy when you are on the go. As a tip, the best option will be the one that has both AC and USB as charging options.
Video Resolution
As with all spy cameras, you need to have a good resolution for your video recording. In addition, you need to bear in mind that the higher the resolution of the video recording, the higher storage space consumption. However, you still need to choose a model that will record at the highest resolution possible. In spy watches, the resolution can be 1280 X 960 at a rate of 30 frames per second. The video capture can be between 230 X 240 and 640 X 480, which is enough to deliver impressive video.
Video Formats
The standard video format is MP4 and AVI. However, you need to make sure that these videos are compatible with your video editing software.
Other Details You Need to Look For
In addition to the above features, you should also choose a spy camera that is comfortable on the wrist. You should also avoid models that look like something that came out of a Sci-Fi movie. This will not be covert and will only raise suspicions. A common design that does not draw attention. If you need detailed instructions after you buy your spy watch feel free to check out our spy watch instructions article.
Shopping Guide When Buying a Spy Watch
As a bonus for you, we have some tips that you need to consider if you are dead set on getting a spy watch. We also have a listing for the kids! You might want to buy a cool present, and a spy watch toy is the prefect fit.
The best spy watch is actually the one that looks like a normal wristwatch and not something that a robot would wear. The objective is to have one that is not suspicious on your wrist.
It also needs to be very simple to operate. The ON/OFF button should be a one-touch operation. Too many buttons to push will be confusing.
The quality of the video recording should be high and easily downloadable to your computer or smartphone
There should be plenty of storage to record the video. Check the memory capacity before buying. Maybe instead of buying you want to make your own ?
The battery power is also important, look for one with extended battery life.
It should also have a time and date stamp
Make sure you know how to use your specific watch, sometimes reading the instructions before purchasing can help you get a good idea on the functionality. You can see our universal spy watch instructions guide article here.
If your looking for more spy cameras, we have a list of the best spy cameras of this year here – www.gadgetsspy.com/best-spy-camera
Final Thoughts
These are some of the best spy watches available. When you feel like being James Bond yourself and want to record any conversation in parties, meetings among others discreetly what you need is a spy watch. We recommend the Eyeclub Spy Watch series because the camera is discreetly hidden in a classy watch with all the right features you need in both a watch and a spy camera.  
Our Pick Again
The Ming Sui 1080P spy watch is designed to look like a normal men's watch. It still maintains normal watch functionality such as telling time. It has a unique and stylish design with good features that will fit in with your chosen outfit.
The camera lens is hidden at the top of the watch. The position is advantageous because you can capture a better camera angle when using it by pretending to check the time or just rest your arm on the table and you will be pointing directly at your target. There is also no indicator light when the watch is in use.
We are sorry that this post was not useful for you!
Let us improve this post!
Tell us how we can improve this post?