These days alot of parents find themselves preoccupied with their job. They don't have a lot of time for anything, and they have a family to provide for. Spending 8 or more hours per day away from home is tricky – add to that the hour or two of traveling to and from work, and we see a problem. This means that children are potentially left uncared for.
The common solution, is to hire a nanny. A background check could come out perfect but at the end of the day, the truth is that you're leaving your child with someone who's most likely a total stranger.
A nanny cam can give you piece of mind – What if you could check up on them? What if you could see what's happening inside your home, at any time that's convenient? That's where a nanny cam comes in.
A nanny cam can give you a complete overview of what's happening in your home. You can log on to it from just about anywhere, using your smartphone, at any given time. If you're going to be hiring a nanny, you will need one in your home.
Top Nanny Cameras This Year (Our Top 4)
 Which nanny mini camera should you get? There is a lot of choice. From budget oriented brands and models, to some truly high end ones, and not all of them are honestly worth it. Well, at Gadgets Spy we're here to help.
We have two things for you. We have compiled hours of research and found the best nanny cam options on the market today. We also have a buyer's guide to help you with the decision.
Recording: 1920×1080 Full HD
Night Vision
Wi-Fi Enabled
Our Pick – Best Reviewed
We'll kick things off with a somewhat budget-oriented nanny cam that works better than you'd expect. The SS offers advanced functionality and a lot of smart features, yet manages not to break the bank. For starters, it records video in 1080p. This gives you a very sharp and clear image.
There's also a two-way audio functionality so you can hear what's being spoken, and talk to whoever's in the room as well. The microphone has an anti-noise filter, which ensures clear audio. You will have complete control over what's happening in the room. You get pan and tilt navigation that works via touch in the camera's app, and there's also digital zoom. A 1080p image gives you plenty of room to zoom in, and you can also take a panoramic picture of the view.
The pan and tilt functionality also lets you view live video at any of the available angles of the camera. What you won't find with many other products is the motion detection.
When you have an SD card, you can record 24/7, until the storage is full. However, you don't have to review the whole footage, as the app will send you a notification when there's motion in the room. Want to see what's happening? Just tap the alert. There's only one account that can access all the settings of the nanny camera, and you can add up to 5 guests that can watch live and look at recorded videos. All things considered, it's a great nanny cam for a great price.
Recording: 1080p HD
Motion detection zones
Field of View: 110 degrees diagonal
Runner Up – Best Features
If you are looking for a high-quality nanny camera with the best features, buy the Blink Indoor Nanny Camera. Setting up the camera is easy, and it comes with a lot of smart features.
The Blink camera records the footage in 1080p resolution, and it has 110 degrees diagonal viewing angle. It allows you to set custom motion detection zones, and you will get alerts via the app when there is a movement in those zones. This Blink mini camera also features built-in infrared night vision, which helps to capture crystal clear footage at nighttime.
The Blink camera comes with two-way audio, and it offers a live view (not continuous). You can see, hear, and communicate with people or pets through the smartphone app.
The camera stores all the recordings in the cloud as the Blink Subscription Plan offers a 30-day free trial. If not, you can save the footage locally with the Sync Module 2 and a USB flash drive.
Installing the camera is simple. Firstly, plug in the camera. Download the Blink Home Monitor app on your mobile phone and add the Blink camera to the account. Keep the camera on a flat surface or utilize the stand, and it will start recording. This Blink camera is compatible with Alexa devices. With that, you can stream live video, arm and disarm the camera, and many more by using voice commands.
Recording: 1280x720p HD
Motion Detection
Night Vision
Also Great – Bang For Your Buck
For those who'd still want to stay within a tight budget, but don't really like the 4sdot camera, we have the Faleemi HD camera.
With 720p video at 30 frames per second, which is very respectable, and all video can be stored on a micro SD card, which can be as large as 128GB the Faleemi is truly a great option.
Setting it up is as easy as downloading their app and scanning the QR code. Streaming video to your smartphone works great, and you can also use the built in mic for two-directional audio. The field of view is very wide, at 270 degrees horizontally and 60 degrees vertically with the pan and tilt functionality, and the IR LED illuminator lets it work during night time as well.
You also get motion alerts when something moves, and not only on your smartphone. They work on Windows, macOS, and web browsers too. The power adapter has a fairly long cord, so you can easily put it just about anywhere, and there's an included wall or ceiling mounting bracket. A great budget camera!
You may want to check here the detailed Faleemi nanny cam review here!
Recording: 1920×1080 HD
Night vision enabled
Alarm Notification
24/7 recording
This 5-in-1 5MP Security Camera System comes with a 1TB hard drive, 8pcs 1080P indoor/outdoor home security cameras, a DVR kits for you to easily monitor activities remotely via an APP called "Danale". All you have to do is download the app, install it on your mobile phone and register your device ID to fully enjoy the remote viewing of your footages and captures.
Highlights
Since it's a plug and play device, you can connect all security cameras to power supplies (AHD / CVI / TVI / Analog Video Inputs), or connect the DVR to your TV/PC monitor with HDMI/VGA cable.
This home surveillance system functions in a 1080P indoor/outdoor bullet cameras that fully supports Intelligent Motion Detection. You can identify areas that are relevant to you or identify hotspots within your home or office and marked them as relevant areas for your motion detection system. Once, placed and the device is working, you will be able to get an alarm notification right away on your mobile phone. Don't forget to install the app needed for you to enjoy this feature.
Highlights
It's a great nanny cam recorder, coming with a 112 degree wide angle lens that records 1080p video at 15 frames per second.
There's also two-way audio that lets you both transmit, and receive audio anywhere there's a WiFi connection.
There are 8 individual IR LEDs that turn on in low light conditions, so you don't have to worry about losing out on image quality in the dark.
The YI Home nanny Camera has a baby crying detection, as well as motion detection that send notification to your phone.
All footage can be stored for 7 days in the YI cloud without a subscription, or you could store them on a memory card (up to 32GB, and it needs to be Class10).
The app lets you access the camera anywhere, as well as share the footage with up to 5 other people. If you have multiple cameras, you could view them from a single account.
It's an excellent solution for people on a budget who still need a 1080p video, and don't mind the low frames per second.
Resolution: 1080p @ 30fps
Storage : 256GB
Night Vision: Up to 33 feet
If you are looking for a highly functional nanny cam, then Amcrest 1080P WiFi Camera is ideal for you. It can record the view in 1080p and has high-end features, such as human detection, night vision, motion-activated alerts, two-way audio, live view, class 10 MicroSD, and many more.  
Highlights
It captures the view in 1080p HD resolution with a frame rate of 30fps and allows you to watch live view through the Amcrest app from your smartphone.  

You can remotely pan, tilt, and zoom (PTZ) from the mobile app or put it in auto-track mode.

There is a built-in AI chipset with human detection feature which can recognize humans using AI mode.  

You can change the Amcrest nanny cam into a flexible VOX audio monitor to hear, watch, and be informed when there are specific sounds.   

The recordings can be saved on a micro SD card, and there is an Amcrest Smart Home Cloud remote video storage, which is optional.  

It comes with a field of view of 93 degrees, sends motion alerts (SMS and email), and features 1-year free cloud storage plan. 
Resolution: 1080P
Motion Detection
Battery: 10000mAh
Night Vision
If you're looking for a great hidden camera, this might be a great option. It is housed in a 7-inch photo frame with a 130° wide-angle view. It has 2.4.GHz Wi-Fi-enabled feature and can produce 1080P resolution for your video and image capture.
Highlights
Its night vision and motion detection can be controlled remotely via your mobile phones through the help of an APP that you need to install. It can allow multiple users to view from one device frame.
Another great feature is the massive high capacity internal rechargeable battery. It has 10000mAh and can record up to 365 days. This is way longer than any other hidden camera in the market nowadays.
The PIR function records any movement of a hot body. The device will be on a standby mode but when motion is detected it will automatically record making sure you don't miss out on important details that are happening within the specific time of the day.
Its built-in stealth night vision lead can give you at least a 30 feet distance advantage during dark or night time.
Highlights
Its 140° angle field of view gives you a unique perspective that you can make use of in different situations meetings, spying, outdoor activities among others.
You can connect to the camera at all times and see what's happening in real time without the need for WiFi – just use the camera's signal if you're in close proximity.
The built-in lithium-ion battery functions at 180mAh with a working time of 60 minutes. It records 26/7 while charging. The device can supports up to 32GB Micro SD card.
Why type of nanny cam do you need?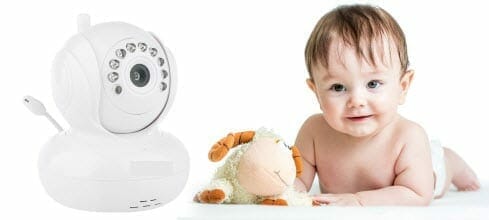 There are two main types, but both have the same purpose. The intent, as well as the legal obligations, are different.
First, you have hidden nanny cams. They're primarily meant to monitor a nanny without their knowledge. If you want to be sure about what's happening, but don't want your nanny to know, a hidden nanny cam is a way to go.
However, keep in mind that there are legal issues here. For example, some countries don't allow audio recording, and you can't put any surveillance equipment in bedrooms or bathrooms. When you're recording someone without their knowledge, it's essential to inform yourself about the laws in your country and obey them. If, however, you don't mind everybody knowing that they're being recorded, you can get a nanny cam that is exposed. 
Features to consider in the perfect nanny cam
Field of view, zoom, recording, and remotely panning and tilting
Field of view
If you're going to be using your nanny cam to capture the entire room, you'll want a wide field of view.
The bare minimum would be 100 degrees, although something along the lines of 130 or 165 degrees is even more welcome. What you should know is that the wider the field of view, the bigger the chances of having image quality loss near the edges. This is much more pronounced with budget nanny cameras than with high-end ones, but it is something to keep in mind anyways.
Zoom
The next thing to be careful about is zoom.
There are some nanny cameras that let you adjust them to zoom on to an area of focus. If you get a high end nanny cam, it might also let you zoom in from a computer or a smartphone. The simple ones, however, will let you set the zoom level, and it stays put until you adjust the camera itself.
Recording
Is a crucial factor as well. Most of the nanny cam Amazon or nanny cam Walmart solutions will let you store the footage on the camera itself, on a memory card. Others will let you hook it up to an external drive, or your computer, but keep in mind this has to be a physical cable connection.
WIFI
The last, and best solution, would be to get a WiFi nanny cam. This stores the footage on the cloud, and you can access it at any given time, wherever you are. The issue here might be security and reliability. However, these streams are usually encrypted, and if the internet connection fails, they'll just store footage on the internal memory. Some kind of recording is essential because you'll want to be able to review your footage at a later time.
Panning and tilting
Might not matter that much to you, but it's important to some. Basically, you can remotely move the camera while it's recording. If you have a wide-angle nanny camera, this might not be necessary, because it will most likely cover the whole room. However, if you have a camera with a smaller angle, you might want a pan and tilt one, so you can move it around and have it record different areas of the room.
Ensure you have a reliable power source
You might think that power and quality shouldn't be last, but all the options on our list have high-quality video and a reliable power source. As far as the power source goes, you can get a battery one, or a cord one. If you're putting it in a place that's difficult to access, a corded power source is better as you won't have to fiddle with the batteries continuously. However, if you're putting it on a nightstand, and the camera is disguised as an alarm clock, you'll want a battery in order to be inconspicuous.
Nanny Cam Video Quality
Video quality usually depends on the budget and price range you're looking at. You should stay away from resolutions lower than 640×480, and instead, tend to go for at least 720p.
1080p video is excellent, but you most likely won't need it. What you should note is that the higher the resolution, the more storage space it takes up. If you're limited with internal storage or cloud storage availability, you might want to keep yourself limited in terms of resolution and save some space.
Creating your own?
For those of you out there who are do it yourselfers there are some options for you to create your own nanny cam, though it will not be as professional as any of these options it may be an interesting choice for those out there that want some more flexibility. You can take a look at our creating your own mini camera article here.
FAQ
Are nanny cams and spying legal?
The laws and restrictions depend completely on your area while installing a nanny cam and spying within your house may be legal, filming your nanny in private situations or compromising areas with the cam may be illegal. Please refer to our legalities article in the article section for more information about the legality of nanny cams. Overall you should not have an issue.
How long does a nanny cam usually last?
The durability of your device depends on a few factors
Quality of parts
Amount of use (using a nanny cam every day for a year can wear down the battery quick)
Accessibility to children
Should I tell my nanny about the cam or hide it?
Some people choose to tell their nanny's for a more productive relationship. The cam's presence on its own is a deterrent however you can frame the situation as one of your pure curiosity wanting to check on your child while your away with no reflection on the nanny or your lack of trust in her/him. 
Wrapping Up
At the end of the day, it's no secret there are plenty of variables to consider. The first one, obviously, would be your budget, but if you can afford a higher-end nanny cam, the possibilities are endless. Do you get a 1080p one that has WiFi and stores everything on the cloud, and pay extra storage, or do you get a 480p one that you can connect to that 120GB external hard drive you had lying around, and not worry about running out of space for at least a few months?
What you should do is keep your expectations at bay, and make sure you know what you're getting into. If you really need a nanny cam (and if you have a nanny, you do), make sure you have a priority list of what's most important to you, and get the top nanny cam you can afford that does it!
Our Pick – Best Reviewed
We'll kick things off with a somewhat budget-oriented nanny cam that works better than you'd expect. The SS offers advanced functionality and a lot of smart features, yet manages not to break the bank. For starters, it records video in 1080p. This gives you a very sharp and clear image.
We are sorry that this post was not useful for you!
Let us improve this post!
Tell us how we can improve this post?