Night vision technology is something that used to be just limited to military applications. However, today that's all around us, from devices that work as smartphone camera attachments, to night vision goggles and scope. The technology has trickled down to some pretty reasonable prices, which means you can easily find some of the best night vision goggles under $500. Now, they might not be the most impressive ones you'll come across, for non-military uses, they're really good.
However, if you're a budget-oriented person who just needs a pair of good night vision goggles, there are a lot of options out there, which means choosing one pair is difficult. You'll have to go through dozens of models, compare, and choose, and there's a high chance you'll end up with something you know little about. That significantly increases the chances of making a mistake, and one that can be costly.
With that in mind, below we'll do our best to help with your choice. We'll talk about ten of the best night vision goggles you'll come across, and then we'll have a buyers' guide that will help you decide which to go for. Let's go.
Quick Summary: Best Night Vision Goggles
Our editors go through and research, test and qualify our recommended products. We receive commissions on purchases from certain links.
Objective lens: 600 lp/mm
Battery: ATN Battery Pack 20000mAh 50 hours
Magnification: 5-20x Smooth Zoom
Ultra HD Sensor

This deserves the top spot because of its ultra HD 4K technology with superb optics that record 120fps video. It can record up to 18+ hours and has a ballistic calculator giving you precision on the subject you are aiming for.
Obsidian 4 Dual-Core Processor was being used on this device making it responsible for its Ultra HD 4K Sensor. The high resolutions and vivid captures are greatly highlighted on this device.

Like in the military, you aim for your goal when it comes to shooting your subject, this is what this device assures you with its Ballistic Calculator feature, you will be confident enough to capture your subject at a given range with the help of its angle target technology and other aspects are also considered such temperature, humidity among others.
It has a dual cam video recording giving you the advantage of streaming your target right at your mobile device in an HD resolution. The night vision mode has a perfect capture in a way that will satisfy you by giving you HD images and videos.
The recording time for this can last up to 18+ hours and can operate at a known temperature of -20°F to +120°F / -28°C to 48°C.
Magnification: 1x 
Objective lens: 25mm
Battery: 6 x 1.5v AA Alkaline batteries
These night-vision goggles offer 1280 x 960 image resolution and 960P video quality. They have a rubber coating to resist moisture, dirt and can deliver a strong grip.
These goggles have seven brightness levels, which you can adjust based on the darkness. With the built-in IR illuminator, you can observe long-range contents up to 984 feet even in completely dark conditions.
The goggles include multi-coated lenses and an FHD CMOS sensor to offer HD video and image quality. The recordings can be stored in the built-in 32GB memory card. Use 6 x 1.5v AA Alkaline batteries, and the goggles can run for about 11 hours with IR off and work for around 4 hours with IR on. There is a Power Save feature to increase the working duration.
The night vision goggles are equipped with a 2.31″ LCD. It offers 3× fixed zoom and 4 x Digital Zoom. Tap and hold the IR- or IR+ button, and the screen will zoom out or zoom in. You will receive a 32GB micro SD card, zipped bag, neck strap, USB cable, cleaning cloth, and user manual.
Screen:  2.31" TFT  320*240 resolution
Magnification: 3 x Optical zoom, 4 x Digital zoom
Objective lens: 25mm
Battery: 6 x AA (not included) 6-8 hours
Video resolution: 1280x960P
Both of the aforementioned models were analog, which meant they had no display, and as such, no advanced features. Well, the JStoon aims to be a more modern alternative, coming with a digital display and a host of recording features that make it a pretty convenient variant.
First things first, you'll get up to 3 times magnification, as well as a 25mm objective lens diameter, making this a 3×25 configuration. There's also a 4x digital zoom, as well as an 850nm IR illuminator that will make sure your images are pretty usable even in pitch black scenarios.
The display is a pretty good resolution model, and you'll be able to see details on it clearly. To add to that, you can also capture photos at a 1280×960 resolution, as well as record videos at the same resolution, at 30 frames per second. Everything is stored on a memory card (you get a 32GB one in the package), and you can review it afterwards.
Pair all of this with an IP56 build, and a comfortable grip with easily reachable buttons at the top, and you've got yourself the best night vision goggles for someone who appreciates extra features.
Objective lens: 25mm
Magnification: 3x magnification x
Field of View: 10 degrees
Battery: 6 x 1.5V AA alkaline batteries

These digital infrared binoculars offer high-quality night vision with 4x digital zoom. With its 25mm objective lens and 10 degrees viewing angle, it is one of the best models which offer wide object vision. Wear these goggles to zoom in and zoom out of a particular location.
These night-vision goggles have a 2.31 inch TFT screen. Besides that, it includes an incredible all-multilayer coating optical system and an 850NM infrared illuminator. With their objective lens, these goggles provide 3x magnification.
It comes with infrared binoculars, which capture 1280 x 960-pixel images and 1280 x 960 HD videos with a frame rate of 30 fps. With its smooth playback and pause features, you can rewatch the particular moments at any time. You can use this device both day and night.
It includes top-notch optical clarity and lets you see the target in opaque surroundings. With these goggles, you can watch up to a distance of 984 feet (300m). They come with IR LED 3W 850NM, which can increase the illumination level. Even if you are holding the goggles, your fingers can reach the buttons. The manual focus from the left lens is smooth, and you can capture crystal clear pictures and videos.
Best Up-close Digital Model
Objective lens: 31mm
Magnification: 7x
Screen: 4″ 320*240 LCD
Battery: 8 x AA (not included)
Video Resolution: 640*480@30FPS
Even though we already spoke of a pretty well-made digital night vision binocular, the JStoon NVG didn't really give you the ability to get up close and personal with the subject you're looking at. If that's what you need, the SOLOMARK Digital Night Vision Binoculars might be a better bet.
They come in a 7×31 configuration, which means that you'll get 7 times optical zoom. This lets you get pretty close, and if that's not enough, you can sacrifice some image quality with the 2x digital zoom. The image quality is pretty good, and you can easily see subjects that are about 1300 feet away.
The display is pretty good, and you can capture images and videos, albeit at a pretty low resolution of 640×480. Everything is stored on a memory card, which unfortunately is not included, and you can use the USB port to transfer data on your computer.
You get pretty good build quality, but there is no water resistance. Since this has a lot of expensive electronics inside, we would suggest only using it in dry conditions. If this is something you can live with, by all means go for it.
Objective lens: 26mm
Magnification: 1x
Field of View: 40 degree
Battery: 50 hours

While most of the models we spoke about are in the vicinity of few hundred dollars, the PVS-7 goes well into the thousands. And you might be wondering, what does it offer, why is it so expensive? Well, it has a lot going for it, and for many it's going to be worth it, so let's take a closer look at it.
First things first, this is a Gen 3 night vision device. We'll talk more about generations later, but for now, you should know that Gen 3 is way better than the Gen 1 of our top pick. The image quality is spectacular, and since this is a 1×26 configuration, there's no dizziness when using it.
To add to this, the build quality is nothing short of phenomenal. The system is meant to be worn on the head like a goggle, and it's got Mil-spec compliant housing, which means it's as durable as they come. The weather resistance is a welcome addition, and you can use the PVS-7 in pretty much all conditions.
If you want a no-compromise pair, and are prepared to pay for it, the Superior Tactical PVS-7 are the best night vision goggles, period.
Magnification: 3x, with 2x digital zoom
Battery: 8 x AA 6 hours
Range: 110 yards
Right after the most premium option on our list, it's time to take a look at what's on the opposite end of the spectrum. The Nightfox 100V is a digital night vision goggle that comes with a wide screen display, and a pretty decent list of specifications. Now, it's honestly nothing to write home about, but it does do a good job of covering all the basics of a good night vision goggle.
The night vision goggles come in a 3×20 configuration, which is pretty good. It's a nice middle ground between no magnification, and getting extremely close. You do get a 2x digital zoom, but you'll be sacrificing quite a bit in terms of image quality, so we aren't too sure if you'd want to use that.
Operation is pretty simple and straightforward. The buttons are all at the top, which means you can easily change settings as necessary, and they're all within reach. Now, even though this is a digital binocular, at this price you can't expect photo or video capturing, and those functions are missing. But if you want something that does the basics pretty well, you can't go wrong with the 100V.
Objective lens: 25mm
Video Reoslution: 960P
Magnification: 3x with 4x digital zoom
Battery: 6 Non-rechargeable batteries (not included) 17 hours
If there's one thing that most of the other digital options on our list aren't too good at, it's battery life. Well, the GTHUNDER aims to change that, with their GTU2 goggles. At a pretty reasonable price, you get all the features you would expect from a quality digital NVG, but you also get 17 hours of continuous operation, if you turn of the IR LEDs. To add to this, you have batteries you can easily replace.
The display is a 2.3" TFT panel which can take pretty high quality photos and videos, and you can then transfer them to a computer. You can look at objects that are up to 1,000 feet away, anything after that and the image quality drops significantly.
The build is also pretty good, because you get easily accessible, top-mounted buttons that you can reach very easily, as well as a comfortable grip for a device that's meant to be used handheld. Add to this IP56 weather resistance, and you've got yourself the best night vision goggles for extended usage in just about any condition. What more could you want from them?
Objective lens: 31mm
Magnification: 3.5x with 2x digital zoom
Battery: 8 x AA 8 hours
Waterproof IPX4
While most of the other options on our list only come with the goggles, and sometimes a soft pouch, the same can't be said for the CreativeXP Digital Night Vision Binoculars. This is a complete set that will have you up and running in no time, and is a pretty effective way of seeing in the dark (and recording some photos and videos, too).
With a 7×31 configuration, you'll be able to get fairly close to the subject you're looking at. You also get a massive, 4" display on which you can see just about everything, and it will also allow you to get two times optical zoom, too, which does come in handy.
However, by far the best feature is the fact that you'll get literally everything you need. The photo and video recording features require a memory card, and CreativeXP include a 32GB one in the box. You also get a hard protective case to keep everything safe and sound, as well as a neck strap and cleaning cloth. Oh, and you also get cables for charging and footage transfer, as well as a card reader. Neat, right?
Objective lens: 8mm
Battery: built-in rechargeable battery 6 hours
Range: 100m
LCD-Screen

If there's one thing that all of the night vision goggles on our list have, even the Sightmark monocular, is that they're far from compact. They tend to extend far too forward, which depending on your use case, might be a bit of a problem. Well, if you're in need of a compact option, SHANNISS has your back.
Their PRO Tracker is definitely a different option, and it resembles more a pair of VR goggles, than night vision tech, something that isn't necessarily a bad thing. The design is pretty modern, and yet has no impact on performance. You get an IR illuminator and an LCD screen, which combined give you the ability to view in the dark at up to 330ft.
Now, the battery life isn't perfect. If you turn off the IR illuminator, you can get around six hours, but otherwise, you'll be limited to an hour and a half of battery life. This is less than stellar, but a necessary compromise to reduce the overall device size. If you're after something compact and lightweight, and still want to stay within a reasonable budget, this is the one to go for.
Now that we have the models out of the way, let's take a look at some of their defining characteristics and how they're important. You don't want to just pick a random pair, but you'll want to think about it pretty well. We'll kick things off with the generations.
If you are interested in going on adventures with your kids, or even just as a toy, we have a list of the best night vision goggles for kids that you might want to check out.
In the list above, we spoke about Gen 1 devices, and there was one Gen 3 device which we mentioned is much more expensive, and performs a lot better. So, without getting too technical and using terms you might not understand, what's the difference?
Well, Generation 1 is basically all about affordability. Some night vision is still better than no night vision, but the roots of Gen 1 night vision go back to the early 60s. But if you're limited with your budget, it will still give you decent performance. The maximum range is about 75 to 80 yards, which is good but not excellent. The images have a good quality, but you might come across a bit of noise. There's also the fact that Gen 1 devices won't operate without an IR illuminator, which must be turned on if you want to see in the dark.
Gen 2 is a pretty big step up from Gen 1, and not just in performance, but in price as well. It improves on a lot of aspects of Gen 1, from sharpness and clarity, to maximum distance. It's actually pretty close to Gen 3 in terms of performance, much closer than it is to Gen 1. But since we didn't talk about any Gen 2 devices, let's move on to Gen 3.
Gen 3 is right below the best there is, and is what the military relies on. There are a couple of grades that all fall within Gen 3, but whichever you get, you won't regret it. The range is much improved, and 300 yards is something you can reasonably expect. You have excellent low light performance, with no need for an IR illuminator, and the image itself is phenomenal. You get clarity, you get sharpness and contrast, and you can easily distinguish details. It is extremely expensive, as you can see from the price of that one Gen 3 night vision goggle we spoke about, but if you're going to make the most of it, this is how.
Last but not least, we do feel like we should mention Gen 4, even though technically it doesn't exist. At one point, it was acknowledged, but since it didn't meet some of the reliability and durability standards set by the US army, it never made it to market. And while you will come across some Gen 4 devices on the market today, they're nothing more than really good Gen 3 devices that come with all the bells and whistles. If that's good enough for you, by all means go for it.
Now that we've got the generations out of the way, let's discuss the other terms. Magnification is one you'll come across, which is something to be wary of. With binoculars and spotting scopes, you do want to get close to your subject. But with a night vision goggle, it's a bit different. If you'll only use them as a handheld device, it's okay to go for some kind of magnification factor. But if you want them for continuous wearing sessions, you should get ones that have no magnification. The field of view is also important, and here you should go for a wider field of view, which will allow you to see more things. The last internal thing you should consider is the resolution of the non-digital night vision goggles. This is basically defined of how good the image intensifier tube can distinguish between objects that are close to each other. Basically, the more the better. (1)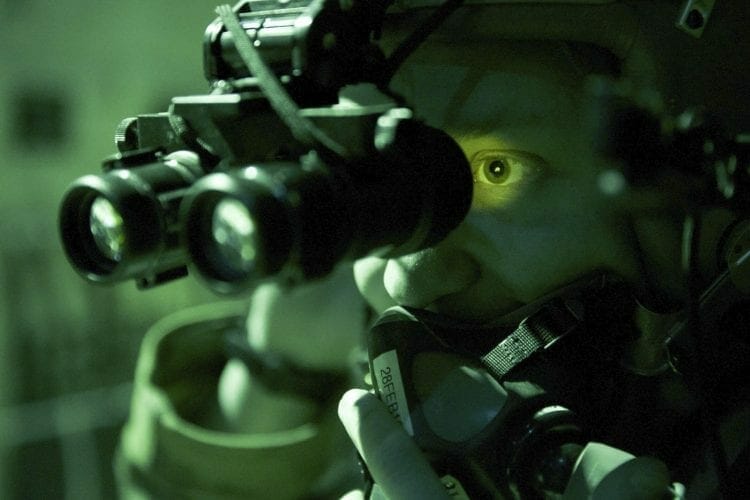 Let's discuss the outside. If you're looking for the best night vision goggles, you'll probably want to be able to use them outside no matter the conditions. And for that scenario, you'll want a pair of weather resistant goggles. Whether you get caught out in the rain, or you have a massive temperature difference which leads to internal fogging, you want your goggles to be able to withstand the elements. A good idea would be to get a pair that have some kind of IP rating, which indicates just how resistant they are to the elements. The more resistant they are, the less you have to worry. One thing we should mention here is that with electronic night vision goggles, you'll want to take much better care of them, even if they're weather proof. The electronics inside might get damaged rather easily, and you don't want that happening with hundreds of dollars worth of gadgets. (2)
Another thing you should consider is replacing the air inside the sealed goggles with nitrogen gas or argon. This means that even if you go out from a warm room to the cold outdoors, there will be no internal fogging and you'll be able to use the goggles without problems. This is not something you can do by yourself, but you'll find it indicated on the product itself, it's known as purging.
Last but not least, consider the power and battery life. All models, even the best night vision goggle models on the market need some kind of power, and batteries are what they resort to. The IR illuminator uses most of that power, but with digital models, the photo and video capturing also has an impact. If you opt for a rechargeable model, see if you can power it with a power bank. If not, make sure it uses batteries that you can carry with you readily, as spares.
At the end of the day, choosing the best night vision goggle is a tricky thing. With so many different models available on the market, it's easy to make a mistake, and such a mistake can be a costly one. If you'd rather avoid that, you should read our guide, and choose one of the models we suggest. There's something for everyone, so you can get just the right night vision goggles for you.
(1) – Magnification – https://en.wikipedia.org/wiki/Magnification
(2) – IP Chart – http://www.dsmt.com/resources/ip-rating-chart/
We are sorry that this post was not useful for you!
Let us improve this post!
Tell us how we can improve this post?