A child's mind works in interesting ways. They have a lot of desire to observe the world and report what they find. If you think about it, they're like little spies – interested in every tiny detail, and want to know everything about everything that surrounds them. They'll love to tell you what they found out, hoping that you could help them figure out what's going on in their lives. And nothing makes them happier than you giving them feedback, and educating them by introducing toys and games that get more complex as they grow and get older. Even though there are serious spy gadgets out there in the real world, it's no secret that kids are often mesmerized by child versions of them as well. Spy gadgets for kids give them the possibility to watch secret worlds around their homes, ones they wouldn't be able to access otherwise. They might reach for a child-friendly drone if they want a bird's eye view of your home, or get a pair of walkie talkies with their best buddy. This is the kind of play that encourages them to learn, to improve their observational skills. If you agree, and want to give your kids a few interesting toys to play with, we have a few options for you below. From drones, to night vision glasses and walkie talkies, there are plenty of solutions to make your children feel like the spies they love watching on TV. Let's take a look.  
An invisible ink pen is basic, yet loads of fun
This is the easiest way to make your kid feel like a spy, or a super secret agent. Give them a pen with
invisible ink
, and get one for yourself – they're really cheap. Whenever you want them to have a challenge ahead of them, write your message with the pen and give it a few seconds to dry. All your kid has to do is shine the light from the pen's cap onto the message, and read the invisible message. This can be used to pass family notes, and make communication fun and secretive. Whether you buy one or two, or a full-on twelve pack for the whole family, you can use them as stocking stuffers, or as an addition to your kid's collection of spy gear. They'll make even the simplest of tasks, such as writing, mysterious and interesting. Just make sure you don't lose them!  
Get them a drone, preferably one with a camera
We have yet to come across a kid that doesn't dream of flying. Well, what if you could give yours the chance of seeing how it's like to look at things from above, without them being in any sort of danger? That's actually perfectly possible with a toy drone. Even though
high-end ones that professionals
use can easily cost thousands of dollars, there are cheaper alternatives to be found. The main feature when you're getting your kid a drone to play with is whether or not it has a camera, and how easy it is to fly. If you want your kid to fly it by itself, get them something that's small and simple. That way, they won't get frustrated and leave it in a box somewhere. And, if the drone has a camera, that's much more fun. They can see where they're flying, and they have a whole new perspective of the world to play with. Whether it's just your home, or the whole neighborhood, your child will enjoy its new toy. Other things to consider are the flying time, as well as additional extras such as a distance alarm or a low battery alert. The flying time is oftentimes short, but many popular drones offer cheap spare batteries. When your kid has emptied one, just switch it out for another one and keep him, or her, going. A distance alarm will let you know if a drone is about to get out of range. Oh, and that low battery alert will come in handy – you don't want the drone running out of power when they're high above. Nine times out of ten, that will result in a crash, leaving the drone

unrecoverable, and your kid … well, less than happy, to say the least.  
Buy them a set of walkie talkies to share with their best friend
If you think about it, every spy needs a way to communicate with his fellow spies, or their HQ. For a kid, there isn't a better way to do so than a set of walkie talkies. With it, they have all they need to keep their spy network running along with their friends. If you want them to enjoy them a bit more, maybe get them something with extra features, such as a flashlight, and a mile or two of range. Keep in mind that they'll most likely give one to their best friend, so maybe talking to their parents and splitting the costs might be an option too. Oh, and make sure you get them something with a rugged design. They're kids, after all, and chances are they'll drop them once in a while. If you're worried about your kids causing problems to people that use walkie talkies for work, such as
law enforcement
or the fire department, know that the kids-specific ones are made for children, and can't communicate with other brands, nor on other frequencies.    
A pair of binoculars or night vision goggles can extend their view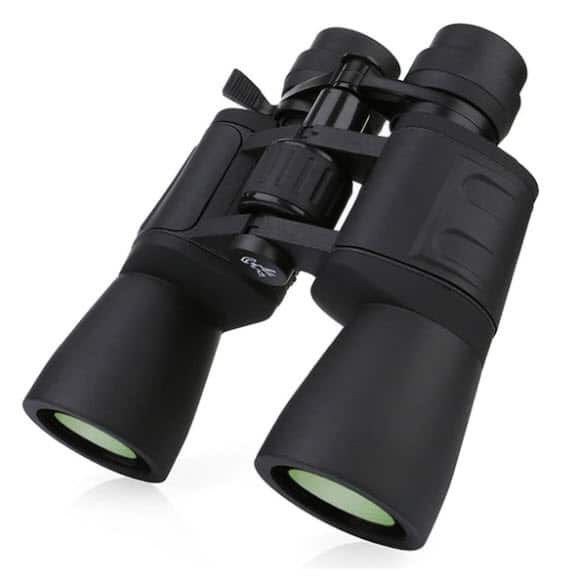 The world, especially for your kids, is a big place. Their eyes can only see so far, but a pair of binoculars can give them the ability to look a bit further. Kids-specific binoculars are lightweight and rubberized, with no hard or stiff parts that could harm them in any way. You can often find them in 6x or 8x configurations, and they're even sometimes colorful, so your kid loves them even more. They're made with lenses that are easier on the eyes, as a kid's eyes are much more sensitive than an adult's. But, what happens if they don't want to see further, but instead, want to see in the dark? Many spies do all their work in the dark, and as such, need the
latest night vision technology
to let them see easier. You could get a kids night vision gadget, one that resembles a pair of binoculars, but has infrared technology inside. This lets kids see in the dark, often around 50 to 70 feet away. And yes, they work even when it's pitch black outside, just like a regular pair of night vision goggles would work. What both the binoculars and night vision goggles have in common is that they're all made for kids. You don't have to worry about them being too heavy, or not fitting your child's face shape, as that's what was kept in mind when they were being made. They will work, and they will not harm your kids in any way, nor will they damage their eyesight.  
If you can't make up your mind, get them a full-on spy kit
Above we mentioned some of the most popular spy gadgets for kids. However, not every kid is the same, and if one loves binoculars, another one might very well hate them. If you want to play things safe, why not get them everything? You can often find a spy kid set that has a plethora of the most popular kids spy gadgets – one of them will absolutely work for your kid. Common gadgets include things we spoke about above, such as night vision goggles, as well as a pen that's actually a camera recorder, or a tactical mirror, or even a motion alarm. Regardless of which spy kit you go for, chances are your kid will love it. And if it doesn't love the whole kit, as a set, it will undoubtedly love at least one of the pieces inside, so you can't really miss with it.  
Wrapping things up
As we mentioned in the beginning, a kid's mind works in interesting ways. They have an unstoppable will to explore the world that surrounds them, to get to know their environment, and to see how things work around them. But that's not where it ends. Once they're done exploring for the day, they want to report to someone, and that someone is often you. That's a game that you'll find yourself playing very often, sometimes even when it isn't immediately apparent. Buying your kid spy gadgets for kids, whether it's one or a whole set, will get you closer to them, by giving you something to bond over. They'll love you for giving them the opportunity to explore, and they'll have more fun with those toys than you'd ever thing is possible. Don't trust us? Try it, and see for yourself!
We are sorry that this post was not useful for you!
Let us improve this post!
Tell us how we can improve this post?