Even though most of us are somewhat used to carrying around a pen in our pockets, many times what you carry is just that – a pen. But made popular by the EDC community, a new product seems to be replacing pens, and that's the tactical spy pen.
Now, make no mistake, this isn't a pen that also records video and acts as a USB drive, etc., those are merely spy pens – a tactical spy pen is somewhat different. It aims to be somewhat of a "multitool", with a lot of small additions you wouldn't notice at first, but make quite the difference.
That being said, if you were to take a look at some of them, you'll notice that more often than not, they're full of useless things you won't be able to take advantage of very often. This makes choosing the best option pretty difficult, and you might end up spending money on one that isn't worth it at all.
To help there, we've got a few options for you below. We'll talk about each of them and why we believe it's a good choice, and then we'll have a brief buyer's guide. Let's go!
Well if you need a pen for capturing video/audio, read the best spy pen here!
Length: 5.9 inches
6 Tactical Refills
Hard Glass Breaker
There's a good reason why this is one of the best selling tactical spy pen models on Amazon – it packs an excellent feature set, and it is also the cheapest priced pen we'll be taking a look at today. It has everything you might need, and then some, and it comes in a nifty box, so you can also use it as a nice gift.
Kicking things off with the build quality, the Sminiker Professional tactical spy pen comes with an aircraft grade aluminum build. This makes it extremely strong, but also fairly lightweight so you can carry it around with you everywhere. It's also pretty comfortable for writing, too. The design allows you to grip it pretty well, and it won't slip out of your hands easily.
At the top, you will appreciate the stiff and pointy glass breaker. If ever you find yourself in a situation where you need to break a piece of glass, it's going to come in very handy. The pocket clip is very heavy duty, so you can easily attach it to a pocket, or a bag. With six spare refills in the box, this is an excellent tactical spy pen.
Length: 6.1 inches
Tungsten Ultra Hard Glass Breaker
Aircraft Grade Rugged and Light Body
Stainless Steel Clip

If you'd rather pay a bit more than our top pick, but also get a nifty little pouch to carry your tactical spy pen, this one by The Atomic Bear is an excellent choice. It's still very well priced, and it comes with all the features you'd need.
This is a pen made with a military grade aluminum that's been machined really well. It basically means that you'll be able to carry it with you anywhere, since it's light, and it can definitely take a beating. The pen itself works really well, and you can use a host of refill options such as Fisher Space, Parker, or even Rite in the Rain. You do get a refill in the box, however, so you should be good to go for a while.
On the top is a glass breaking tip, which works admirably, and might come in handy in a variety of situations. To add to this, aside from the handy sheath and spare ink cartridge, you will also get a self defense online class when you buy it, so you're well prepared on how to use this tactical spy pen. An excellent choice.
Material: aerospace grade aluminum
6 tactical refills 
Glass Breaker -Tungsten Steel

Even though our top pick is a pretty budget oriented option by itself, sometimes you might want to look at another alternative that also won't cost you too much. If that's the case, you should give the KEPEAK Military Tactical Pen a choice. It's similarly priced to the Sminiker, and comes with a pretty similar set of features.
This aluminum tactical pen is built like a tank. It's all made of aircraft grade aluminum, which is lightweight, but also incredibly stiff. The glass breaking tip is, however, made of tungsten steel, which means you'll be able to break a glass in an emergency immediately, with a single hut.
Why it's lower on our list than the top pick, is because the writing felt a bit rough. Even though this is a round nib, we would've preferred a smoother experience. The six included refills are just the same, too, which is unfortunate.
On the other hand, some people don't really care too much about this. Instead, they just want the tactical functionality to be good, and it definitely is with the Kepeak. If that's you, by all means go for it.
Length: 6.3 inches
Fire starter ballpoint
Flashlight
If there's one thing we would say is missing from all the other tactical spy pen models on our list so far, it's a flashlight. But that's not the case with this tactical spy pen by ISPANDY, because it comes with a nifty LED flashlight that can illuminate things pretty well.
The entire thing is built really, really well. From the choice of materials, to how they're combined, you're going to love it. And if you don't trust us, trust the no-questions-asked lifetime warranty that ISPANDY gives you for it.
Aside from the flashlight and pen function, this tactical spy pen also comes with a fire starter ballpoint and key tool. This is a feature that we're seeing become standard and is one that is unique.
The size of the pen also makes it excellent for daily carrying, and it's a lightweight option, too. Overall, if you need a tactical spy pen that has a flashlight and is built really well, but you don't mind paying a bit more for it, the ISPANDY is the one to get.
3 black ink cartridges
4 sets of batteries

All the tactical spy pens we spoke about had a fairly standard tool kit. But, what if you need something a bit better than that? Well, if that's the case, we think you'll love the second option we have by The Atomic Bear – their Tactical Pen Kit. It has everything the others had, and then some, but you'll be paying for the privilege.
To begin with, you have an excellent writing ballpoint pen that's made of aircraft-grade aluminum. It's built really nice, and you get a steel glass breaking head at the end. What you'll also get is a two-mode LED flashlight, which might come in handy in a variety of situations. And to add to this, there's a multitool head as well, which comes with a tiny screwdriver and wrench. As you can see, you do pay a bit more, but you get an impressive feature set here.
And as if that wasn't enough, you also get three refills for the pen, as well as four battery sets for the LED flashlight. Not only does it work well, but you're pretty much set for the foreseeable future, too!
With all the tactical spy pen options out of the way, maybe it's time to take a look at how you should choose yours. Now, let's get one thing out of the way. If you aren't sure what you need, our top pick is the one to go for. It covers the basics pretty well, and it doesn't lack any of the critical features of a tactical spy pen.
The feature set of most tactical spy pens is fairly standard. They come with an aircraft aluminum build, which is both stiff and durable, and pretty lightweight, making them a convenient EDC option for many. To add to this, at one end you do get a standard pen, and it's usually a decent quality one. Some will even give you a few refills to keep you going for a couple of years, which is a nice addition. And another thing that's standard is the glass breaking tip. This is a great way of breaking glass in an emergency, and is usually a steel tip that's sharp enough to break the glass into pieces when you need it to. (1)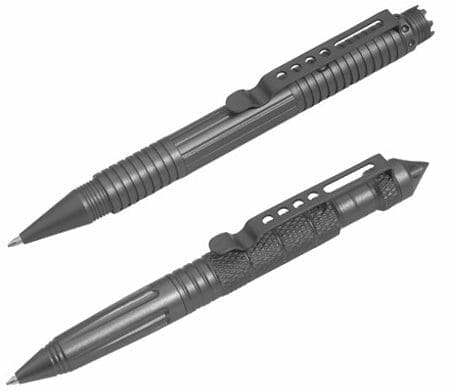 What separates some more premium options is usually the addition of a flashlight. While most of us do have a flashlight on our phones, what if your battery is empty? It's definitely a nice addition, and if you think you might need it, by all means, go for it. And one more thing is adding some kind of a multitool as The Atomic Bear did. While this shouldn't be your primary tool if you have a choice, it will definitely do in a pinch when you need a screwdriver or a small hex wrench.  
To help you with the use of these products here are spy pen instructions universal that might help you. And check also this guide for our invisible ink spy pens! 
(1) – Glass breaker – https://en.wikipedia.org/wiki/Glass_breaker
We are sorry that this post was not useful for you!
Let us improve this post!
Tell us how we can improve this post?