There are a lot of reasons to want a UV flashlight. Whether you need it for your job, or you travel often and want to make sure your hotel sheets are clean, a good pocket option is something you should definitely have as a part of your toolkit.
That being said, a quick glance at the market tells you that there is no shortage of options nowadays, and choosing the best UV flashlight for your use case might be a bit more difficult than you think. With that in mind, we'll do two things to help you. First we'll give you five of the best UV flashlight options you can buy, as well as a brief review of each of them. Then,  we'll discuss the features of a UV flashlight, so you know which features are actually worth investing into. Without wasting any more of your time, let's go.
128 UV Light LEDs
UV wavelength: 395nm
Battery: 6 AAA batteries

Here is our top pick, which is accessible at a reasonable price. If you are looking for a UV flashlight to detect pet urine, find scorpions, and for other cleaning purposes, this BRIONAC Black Light Flashlight is perfect for you. The flashlight body is made of non-slip material to offer better grip. You can carry it everywhere, and it comes with a wrist strap. 
The UV flashlight features IP45 water resistance, and it can withstand many extreme weather conditions such as rain, storm, and more. The outer body is made from heavy-duty grade Aluminium alloy. This flashlight runs on 6AA batteries, which you need to buy separately. It comes with a better quality circuit board, which consumes power at a slow pace and saves more energy. 
With its unique wide head design, it is one of the highly recommended UV flashlights. Plus, the 128 high-quality LED black lights produce 80% broad and brighter UV light with 395nm wavelength. You can easily detect the things that are invisible to naked eyes. 
Installing the flashlight is pretty much easy. Open the back cover and put batteries in the battery holders. After that, insert these battery holders inside the flashlight and close the back cover. Press the ON button to switch on the UV torch. 
51 UV Light LEDs
UV Wavelength: 395 nm
Battery: 3AA batteries (not included)
If you think the TaoTronics was a tad too small, and you'd rather get something that's a bit bigger, and has more power, the Escolite is the choice for you. And even though you won't be able to carry the Escolite around with you, at least not in a pocket, it's still a great option for a backpack, or for home use.
First things first, this is a pretty large UV flashlight. The reason is the fact that it has 51 LEDs at the front, all working at 395nm, which cover quite a large area. Now, you might be thinking that those LEDs consume a lot of battery. However, with full charge on three AA batteries (which are not included, by the way), you can expect somewhere around 4 to 6 hours of usage.
The entire thing is built out of aluminum alloy, so you get a durable UV flashlight that you can use for a long, long time. Whether you want to see where your pet made a mess, or you think you have scorpions somewhere around your house, the Escolite is a good option to have at home.
51 UV Light LEDs
UV Wavelength: 395nm
Battery: 3 AAA batteries (not included)

Those of you who liked the Escolite, but want something that will reassure you a bit more in terms of durability, might want to take a look at the Vansky UV Flashlight. In a lot of ways, it's similar to the Escolite, but for a small price difference, it may outlast it.
First things first, this is a large UV flashlight. With 51 LEDs that emit 395nm UV light, it will cover quite a large area, and it's actually a pretty powerful flashlight, too. It's excellent for revealing dry stains and spots that the naked eye can't see. But the main advantage it has over the Escolite is the fact that the LEDs are rated at up to 12 years in terms of durability. If you aren't a fan of replacing your UV flashlight every couple of years, you'll love this.
Pair all we said with a high quality aluminum body which brings the weight down, as well as a strap on the end and a comfortable grip, and you've got yourself a pretty good UV flashlight. Oh, and note you'll need batteries for it, too, as they don't come included in the package.
IP 65 Waterproof & Dustproof
UV Wavelength: 395-405 nm
Battery: 18650 battery or 2*CR123 batteries (not included)
At the prices the UV flashlights we're talking about go, we aren't really sure if we should call this premium. But the UltraFire Black Light is a few bucks more expensive than all the others. However, you do get a lot for that price difference.
First, you have an LED that emits UV light at 395 to 405nm, which is just the right wavelength. But you also have an adjustable focus. It lets you choose between a narrow beam, that's more powerful, or a wider one that has a bit less power. You can pick and choose depending on what you're using it for.
The build is excellent too, with an aluminum body that has IP65 water resistance. Even if you use it in the rain, or drop it in a puddle of water, it should be all good. It's built like a tank, and is still a compact choice for day-to-day use.
Last but not least, you can choose between powering it with a single 18650 battery, or two CR123 ones. The first option gives you a rechargeable battery, so we would suggest that you go that way. In any case, this is an excellent flashlight.
12 UV Light LEDs
Battery: 6 AAA batteries (not included)
UV Wavelength: 395 nm
We're wrapping things up with another model by Escolite, but this time it's a much cheaper variant. It's a pocket size UV flashlight, and for the price of most of the competition, here you actually get two identical flashlights.
This UV flashlight emits light at 395nm, which is just the perfect wavelength, as we said earlier, and the power is actually pretty good. Considering it's only 3.75 x 1.1 inches, we were surprised at how good it is. It's certainly one you can carry along with you if you intend on getting one for traveling.
The build quality is pretty good, but nothing to write home about. We would've liked some grip on the surface, but instead we have a smooth surface that might slip out of your hands. However, at the asking price, we really can't complain.
If you're a person who loses things often, or you just want a spare to carry around, the Escolite UV Flashlight that comes in a compact two-pack solution is just right for you.
The first thing you'll want to know when you're choosing the best UV flashlight is the wavelength. UV light is actually a pretty broad term that you can use for a very wide range of wavelengths across the spectrum. Similarly to how visible light is usually measured along a visible spectrum, UV light is usually measured along a spectrum by using the wavelength. The measure is nm, or nanometers. And when you're buying, you'll want to get the right wavelength.
A UV light's primary purpose is to induce fluorescence, and not all wavelengths are capable of doing so. If you don't get the right wavelength, your UV light may pretty much be useless. Where you want to be is at, or below the 400nm mark. Now, across materials and objects, the optimal wavelength varies. But fluorescence is usually strongest in wavelengths around 360nm. (1)
The thing is, such low wavelengths are often difficult and expensive to manufacture, which is why most of the consumer-grade UV flashlights come with a wavelength that's a tad higher. The most common option is 395nm, which is just right if you follow the sub-400nm definition. A thing to note here is that they're very close to the cut-off, and therefore will emit quite a lot of their energy as violet light. The result? You'll get a host of objects that are eliminated in a pretty dull violet color. There won't be enough low wavelength UV light. But if you're looking to get a light for forensics, or for looking for pet stains, or for checking how clean your hotel sheets are, the 395nm models are actually just right.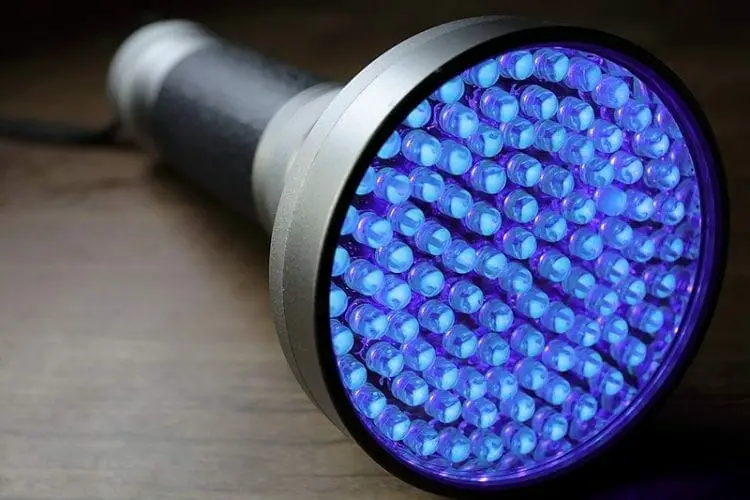 Aside from the wavelength, you should also consider the power. If there's not enough power, the fact that the wavelength is right is pretty much useless. You'll want to look at wattage, you'll want to look at the number of LEDs, those are the things that will determine whether or not you've got yourself a useful UV flashlight, or not. But, to make things easier for you, all of the flashlights below are powerful enough for day-to-day use, and you won't have problems with any of them.
While we're talking about power, you should also note how the flashlight gets power. Most options are usually powered with AA or AAA batteries, which is a cheap and convenient way for personal use. You can switch out the battery if it's empty, and carrying a few spares in your pocket is never too difficult. If, however, you think you'll be using yours more often, you might want to look into a rechargeable option.
The last thing we'd like to discuss is the weight and size of the flashlight. If you're going to be carrying it around with you, a larger, heavier flashlight might not fit in your pocket as you expect it to. This is why our top pick is our top pick – the TaoTronics is a really compact flashlight that fits just about anywhere, and it's pretty lightweight. However, something like the Vansky's 51-LED model is only viable if you carry it in a backpack.
(1) – UV Light Explained – https://www.livescience.com/50326-what-is-ultraviolet-light.html
We are sorry that this post was not useful for you!
Let us improve this post!
Tell us how we can improve this post?