It doesn't matter whether you want to track your pet, or your children, or even your spouse, and we're not here to judge the morality of either of those, having a personal GPS tracker is an interesting idea. It's basically a small, pocket-sized tracker that you can take with you without it weighing you down.
Why would you want one? Well, pets getting lost is a pretty common occurrence. With the best personal GPS tracker no monthly fee, you can easily open a map app and see where it is, thus saving you a lot of time and nerves in looking for it. You may also want to know why your children are coming home from school a lot later than they should be, and where they are in the meantime.
Regardless of the reasons, you might want to look at a few options and see what the best personal GPS trackers are. To help with that, we've got a list of them, and as a bonus, we'll give you a buyers' guide that covers the basics of buying one.
You may check the best GPS tracker in the market, nowadays, and for those who have motorcycles, you may also check the best motorcycle GPS tracker.
Quick Summary: Best Personal GPS Tracker With No Monthly Fee of 2019
Our editors go through and research, test and qualify our recommended products. We receive commissions on purchases from certain links.
Our Pick
Our top pick is PETFON's Pet GPS tracker. It's an expensive personal GPS tracker, but it's by far the best way of tracking your pet, making that asking price very much worth it. It's also got a host of useful features, as well as some that you just won't find anywhere.
First things first, this is a tracker that combines GPS, Bluetooth, Wi-Fi and long distance wireless technologies in order to give you a pinpoint location. While others work based on cellular networks, the PETFON doesn't, and thus doesn't require you to use a SIM card, thus saving you money for monthly, or service fees.
Setting up the app is really easy to do, but unfortunately, it only works on iOS. However, once you do have it set up, you can see your pet's location at any time, and see what it's doing. The device itself is small, so your pet won't feel bothered by it, and it's also waterproof so you don't have to worry about a puddle of water destroying it.
In terms of additional features, you have geofencing, which will notify you if your pet leaves a predetermined area, as well as multicolor alerts for different things. You can remotely activate the tracker's LED, which will flash so you can locate your pet more easily during the night time. Another neat thing is that you can store voice commands on it, which basically lets you communicate with the pet at any moment.
Last but not least, you have the battery life. With a single charge, you can use it for 8 to 16 hours, depending on the usage scenario. It also comes with a nifty little charging case. All things considered, this is the best personal GPS tracker no monthly fee.
Runner Up
Here is another best GPS tracker. This wireless tracking device uses 4G Technology and provides precise location tracking. With the hybrid positioning mode, BDS (Beidou), GPS, GLONASS, and LBS base station tracking strategies, it gives accurate location.
It gives real-time tracking and sends location updates every 10 seconds. Besides that, this GPS tracker is connected to WanWayTech big data management platform to deliver high-end security for the users. As the device comes with a powerful magnet, it is easy to install. You can check the tracking status using multiple methods such as platform, app, and SMS.
This device allows you to check the location history. You can create a Geofence on the map, and the tracker will send alerts when the device gets in or out of that area via the app or SMS. The device has a few high-end features such as an over-speed alarm, voice monitoring, light sensor, and disassemble alarm. Other functions include an electronic fence, a street view map, and more.
The terminal contains a large 5000mAh capacity battery to provide long-term tracking and positioning. In standby mode, the device can work for up to 3 years. You can recharge the battery through a 5V feed, and the tracker consumes the power at the microampere level. When the battery is low, you will receive low power alerts.
Best Functional Model
This device is made using heavy-duty materials, and it includes IP65 water-resistant housing. The 4G GPS tracker can locate people, equipment, fleets, and even other vehicles.
The package includes a SIM card and delivers service for one year, and you do not have to pay any monthly fee and activation payment. However, you need to renew it in the second year. 
The GPS tracker works on 10000mAh Lithium Polymer batteries. With one full charge, this device runs for about 7 to 20 days and gives 30-sec updates. This highly functional device can keep the tracking history for up to 180 days. Besides that, you can playback the locations from your computer, tablet, or smartphone (Android and iOS compatible app). 
Check the real-time location using your smartphone (iPhone or Android) and Web app. With its advanced 4G LTE technology, it receives a better network and high-speed connections for location tracking.  
This GPS tracking device features three different power-saving modes. You can choose between normal working mode, power-saving mode, and intelligent working mode. Besides that, you can adjust the settings to save more power. You can use Google Maps for tracking and mapping. This device comes with a high gain GPS module and powerful magnet and supports 3G and 4G networks.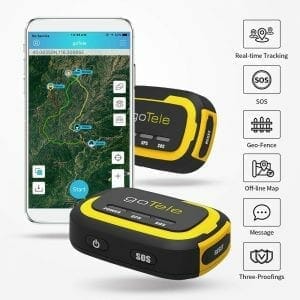 Even though extremely pricey, the goTele GPS Tracker is the only true best personal GPS tracker no monthly fee that will last even in difficult scenarios. It comes in a two-pack, and they're meant to communicate with each other, which is why you won't need to pay any kind of subscription fees, and you won't need cell service or Wi-Fi.
The app works wonderfully, and makes the tracker very suitable for hiking, boating, camping, fishing, and similar outdoor activities that require a rugged device. It's designed to be shockproof, so even if you drop it, chances are it will continue to work just like it's supposed to. Oh, and it's also waterproof and dustproof, so yes, it's just as rugged as you think it is, if not more.
It features real-time tracking, and things such as geofencing and SOS button. One downside is that the device need to be 3-5km apart for them to work in suburbs, and 1-3km in downtown areas. There's also the issue of mountain terrains, buildings and electric equipment affecting reception. If this is something you can live with, though, and you find yourself outdoors often, the goTele GPS Tracker is the best personal GPS tracker no monthly fee.
It is a fast 4G LTE device with worldwide coverage in 200+ countries. Use the Vyncs Groups feature to locate the people even when not in a car. It allows you to Mark geofence zones in any shape. You can set up this device within two minutes, and there are setup instructions in the Vyncs app.
This GPS tracker does not need any monthly fee, and you have to pay only for one-time activation. There is no extra activation fee for the second year, and it includes one year of service. You will receive alerts via Push Notification, Email, and SMS (upon request).
You can use this GPS tracker to track people, vehicles, and more. Plug into the OBD-II port of the car or conceal it using an OBD extension cord. It includes a SIM card and allows real-time tracking: USA (AT&T, T-Mobile) and International coverage. You can watch the real-time location through the iPhone, Android devices, or Web app.
This GPS tracker gets power from the OBD-II port and does not require any battery. It obtains data every second, evaluates, and delivers updates to the server every three minutes. However, 60 sec, 30 sec, and 15-sec update upgrades are available. You can also have unlimited trip history on the map.
Buyers' guide
The first thing you'll want to note when buying the best personal GPS tracker no monthly fee is the physical size of the tracker itself. Whether you're buying it for a person, or a pet, it should be lightweight and pocketable, so it doesn't weigh you down and doesn't require you to carry a bag for it.
GPS accuracy is the second key thing, because with people, you want accuracy within a few feet, not within a 100 yards. That could be the difference between finding the person, or pet, and not finding them in a crowd.
Additional features that are worth paying a bit more for include geofencing, as well as multiple alerts that would let you know if something's going on. You can have a safe area and get your tracker to notify you if it leaves that area, for example, but not a lot of models offer this.
Last but not least, note the battery life. A GPS tracker is useless if the battery is empty, and that may very well happen with a personal tracker. They do use up quite bit of battery, so you'll be best off with something that you can either quickly recharge, or that doesn't use too much battery in the first place.
Our Pick Again
Our top pick is PETFON's Pet GPS tracker. It's an expensive personal GPS tracker, but it's by far the best way of tracking your pet, making that asking price very much worth it. It's also got a host of useful features, as well as some that you just won't find anywhere.
We are sorry that this post was not useful for you!
Let us improve this post!
Tell us how we can improve this post?