Dash cams are something that just about everyone should have in their car. Whether you get a high-end model that records both at the front and the rear, or just a more budget-oriented variant that will have you covered for the front, just buying it is only half of the whole process. You'll also need to mount it and make sure it's recording when you need it to.
So, when it comes to dash cam instructions, there are two things that are important – how to choose it, and how to install it. In order to help you as much as possible, and make the process easy, we'll talk about both of these things. You may also see the best dash cam under 100 here!
How to choose a dash cam
Without going into too many details (we've got a detailed guide here as well), what are the key few things that matter when buying a dash cam? Well, the most important one is the resolution, and then you've got things such as field of view, display, additional functionality, etc.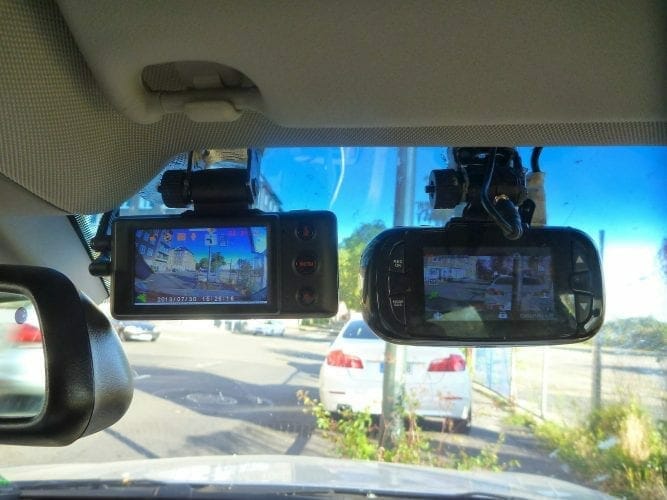 The resolution is the most important thing, as it directly dictates the image quality you'll get from your dash cam. The cheapest, most budget-oriented models, will come with a 480p camera. While during the day, that could be enough, when there isn't too much light you'll seldom get usable video from it. The minimum, if you can afford it, should be a 720p camera. Fortunately, most of the midrange models are 720p, so you're good to go. However, if you're willing to spend a bit more, by all means go for a 1080p, or even 4K camera. A higher resolution lets you distinguish details such as license plates and faces, so it's more than useful.
Next, we've got the field of view. A dash cam is fixed to your vehicle, so a wider field of view means it will capture a larger part of the scene. In the event of a collision, capturing as much as possible is crucial when you need to determine who's at fault, and how things happened. It's also crucial when your vehicle is parked and someone damages it.
Now, let's get one thing straight when it comes to the display – it is not a display you will be used for reviewing the footage in case something happens. It's only used to set your camera up, get your settings right and make sure it's recording in the right direction and capturing the right angle. Therefore, there's only a small display on dash cams, and the resolution isn't all that important. However, it's certainly useful if it has one.
As far as additional functionality goes, it's always handy if your camera has a dedicated night mode, for example. When there isn't a lot of light, you'll want IR LEDs that can still illuminate the scene and let you capture everything that's happening. Sure, a good high-resolution sensor is good, but night mode will make a huge difference when the sun goes down.
You could also invest in a camera that has automatic recording mode, and a G-sensor. Automatic recording detects when you start your car and will tell the camera to start recording instantly. A G-sensor, on the other hand, detects when there's been a collision and will lock the recording so it doesn't get deleted.
Last but not least, there's loop recording, but this is almost standard on all cameras. While most of them support large memory cards, chances are you'll forget to empty it once in a while, and you'll still want the latest video to be saved to it. With loop recording, the oldest video will be overwritten by the newest one, so you always have the latest events recorded.
How to set up your dash cam
When you're setting up your dash cam, you'll either have some kind of adhesive, or a suction cup. The display we spoke about will help you in getting the right angles, so you capture as much of the scene as possible. However, the tricky part comes when you need to power your camera. Generally, there are four options, so let's take a look at all of them.
The first solution is using your car's cigarette lighter socket. All you need to do is get an adapter that plugs into your camera and the socket and run your wire. However, this comes with two issues. First, you won't get parking mode, which is pretty important. And second, you'll have your cigarette lighter socket used up by your camera, so it's pretty much useless for anything else. Not to mention that you'll have a long cable to deal with – you don't want to just leave it hanging in your car.
The second option is to hardwire it to your car's electronics and is the most popular option nowadays. You're pretty much hooking it up to your car's fuse box, so it will start automatically when you start your car. You also get parking mode this way, because you have power over your camera all the time. You can check this learning guide for detailed instructions on how to hardwire a dash cam.
If you'd like to avoid hardwiring (as doing it yourself can be tricky if you don't know what you're doing), there's always the option to use the OBD port of your vehicle. This also allows you to get parking mode, as well as a camera that (in most cases) starts recording instantly.
The last method is to use a battery, but this isn't one we'd recommend. A battery pack does give you parking mode, but you will need to remember to keep the camera charged, and if we're being honest, you'll forget it at some point.
Wrapping things up
When it comes to dash cam instructions, it's usually pretty simple – you get the best camera you can afford, and you plug it in as you find it most convenient. We'd recommend going for the hardwire method in order to leave your lighter socket and OBD port free, but it's completely up to you.
And for a more specific learning guide, you may want to check read this one. It answers the question; How long do police keep dash cam videos? Until our next article!
We are sorry that this post was not useful for you!
Let us improve this post!
Tell us how we can improve this post?