Installing a lightbulb camera involves steps such as turning off the socket, screwing the bulb in, and linking it with your wifi and a mobile app. Below we will cover some of these steps and how best to optimize the process.
Here, you may check first the best light bulb camera this year!
How Do I Install a Lightbulb Security Camera?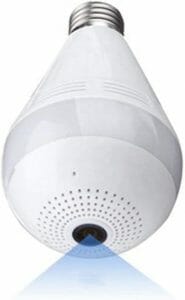 Do light bulb cameras work? Yes, it definitely works, and once you have decided on a lightbulb security camera, now it's that time to install it. When I say that it is easy to install one of these lightbulb security cameras, I mean that because really, it's as simple as installing a lightbulb in itself.
The first thing to do when installing a lightbulb camera is to make sure it fits into the light socket and there is a good Wi-Fi connection in place.  You can use your phone or laptop to test the signal strength before the installation.
Once you are ready with all this setup, it is time to install it, and here are the steps:
Make sure to turn off the power switch to the socket or light/lamp that you are using.  You would not want to get an electrical shock while you're working (1)

Remove the old bulb if there is one and make sure it is cooled off if it has been turned on for a period of time.  Then carefully turn the bulb counterclockwise and be ready with your hands to catch the bulb when it comes loose.  A tip for doing this is to use both hands to ensure you don't drop the bulb

Place the old bulb in a safe place.  The box from where the new bulb came in, should be sufficient to fit so that it doesn't roll around

The next step is to do the reverse of step 2 where you will unscrew the new lightbulb camera in a clockwise manner until it fits tightly in the socket.  But don't turn it too tightly as you could break the bulb or cause it to break in your hands

The final step is to switch the power back on and make sure the light works.  Depending on the brand, your camera might have a red light flash to indicate that the camera has power or a Wi-Fi signal.  Simply make sure that the lightbulb portion of the camera works to proceed with the Wi-Fi setup
How to Test your Lightbulb Security Camera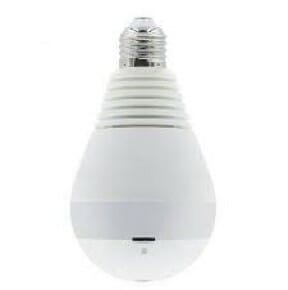 Now that you have installed the new lightbulb camera, it's time to test it out to see if the device works as it should.
I suggest you have a friend or family member go in front of the lightbulb camera and move around.  They can make a facial gesture or move around just to see how the camera is displaying the picture.
If you cannot use someone to help you with this, what you can do is try putting a tablet or phone in front of the camera and play a video.  This will prove the motion recording capability of the camera and that the installation works.  If all is good, then great, then you have succeeded in installing your first light bulb security camera so enjoy it!  If you still have problems with the setup, you can go through the steps again or use any resources provided to you by your camera's manufacturer.
Are All Lightbulb Security Cameras The Same?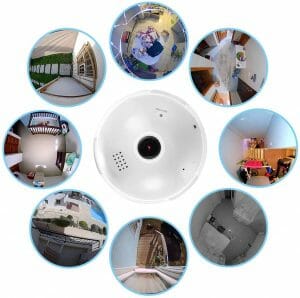 A lightbulb security camera is a combination of a lightbulb with a security camera usually hidden in the base of the lightbulb, between the power source and the bulb itself.  At first glance, there is no telling whether the lightbulb is a security camera or not. Here, you may check the details on how can you tell if a light bulb has a hidden camera.
The one thing that works well for security camera bulbs is that they draw power for the camera from the standard light bulb socket.  This means that the camera can fit into and work in pretty much any adequate, sized socket.  Since lightbulbs come in varied sizes, you must ensure to get a camera that will fit the socket of a light.
Most of these security camera light bulbs will also use Wi-Fi to transmit the video they record.  Before installing one to replace an old bulb, make sure that you have a decent signal for the bulb to connect to.  
There are many companies out there who manufacture these kinds of security cameras so the lightbulb security camera is one example of that.  According to spec sheets, the various offerings will all look pretty similar, but there are pros and cons that you should take into consideration before deciding on which one of these to use.
Installing a lightbulb security camera is just one of the innovative and creative gadgets that you can deploy especially when it comes to keeping safe and secure. A lightbulb security camera is very similar to setting up any other Wi-Fi or IP security camera.  Usually one of these cameras comes with the manufacturer's instructions but if there isn't any available, you can simply Google search this. (2) 
Having one of these lightbulb security cameras is one creative and safe way to protect yourself and your loved ones against any danger that might surround your household.  
References
(1) electrical shock – https://www.healthline.com/health/electric-shock
(2) IP – https://searchunifiedcommunications.techtarget.com/definition/Internet-Protocol
We are sorry that this post was not useful for you!
Let us improve this post!
Tell us how we can improve this post?